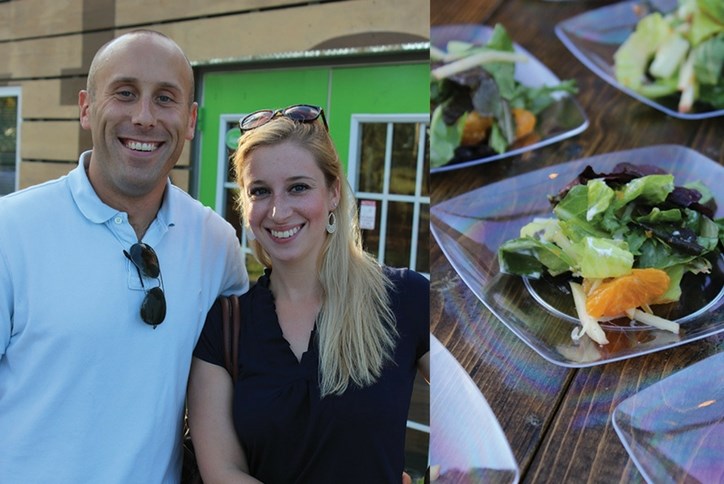 Pairing on the Porch
Last Sunday was the perfect fall evening to welcome residents and friends to an intimate wine and food pairing at the Front Porch Info Studio. Greeted with a cool glass of champagne upon arrival, over 50 guests mixed and mingled while enjoying five perfectly paired courses.
The menu, created by local Chef Rocky Stech of Eclectic Chef, was carefully crafted to complement some of the finest wines presented by Master Sommelier, Stephane Peltier, proprietor of Accent on Wine. Both establishments are located in downtown Summerville. Each pairing was artfully created to provide guests with a vibrant culinary experience.
Check out what was on the menu:
1st Course:
Apple, goat cheese, candied pecan, and mandarin orange salad with a pear vinaigrette
Paired with Grenache / Mouverdre / Cinsault 'Rose,' Chateau de Brigue, Cotes de Provence, France 2014
2nd Course:
Red Snapper Ceviche
Paired with Sauvignon Blanc, Kono, Marlborough, New Zealand 2014
3rd Course:
Crab Cake, Sweet Corn Puree, and Tomato Butter
Paired with White Blend, Sokol Blosser, Evolution, Willamette Valley, Oregon 2014
4th Course:
Beef Tenderloin, Creamy Smashed Potatoes, and Haricot Verts
Paired with Meritage, Chateau Bellegrave, 'Chevalier de Dauprat,' Pauillac, Bordeaux, France 2012
5th Course:
Chocolate Whoopie Pie with a Raspberry Couli
Paired with Brachetto, Accent on 'Casanova,' Piedmont, Italy 2014
Stay tuned in to our Facebook page for updates on our Front Porch events and other announcements at Nexton. We look forward to seeing you soon!
Cheers, 
Your friends at the Front Porch Info Studio