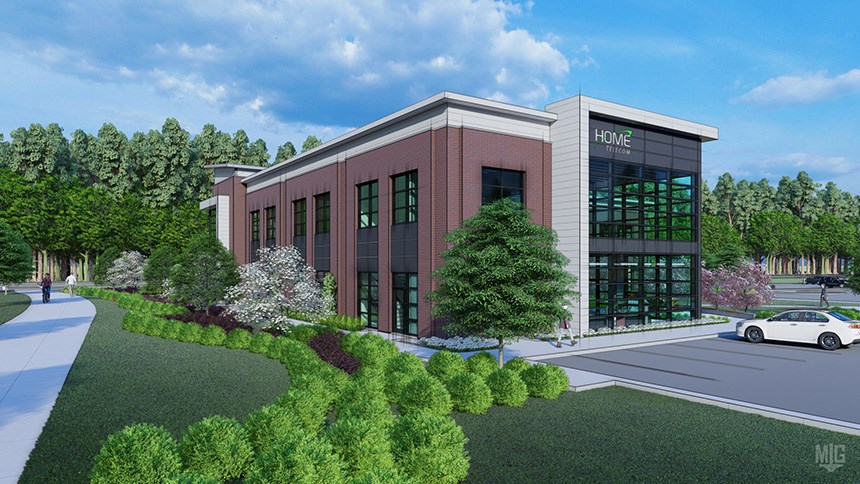 Nexton Announces Groundbreaking of High-Profile Commercial Property CoOp@Nexton
Summerville, S.C. – July 9, 2019 – Nexton, a 5,000-acre master-planned community under development in the heart of Charleston's I-26 growth corridor in Summerville, South Carolina, announced today the groundbreaking of CoOp@Nexton, the first high-profile commercial parcel in Nexton's Parkway District.
CoOp@Nexton launches Nexton's commercial corridor and will function as an office and retail center with several commercial businesses in addition to a mid-rise multifamily community by The Spectrum Companies and a Refuel gas station and market. The parcel will additionally include green space with multiple trails and park elements, including an open lawn for lively activities and shaded spaces for quiet reflection. 
Home Telecom, one of the largest independently owned telecom companies in South Carolina, is building a two-story, 20,000-square-foot office building featuring a Home Telecom customer service center. The first floor will consist of the customer service center and 5,200 square feet designated for traditional office space or ground-level retail. The building's second floor will offer wired 10 Gbps Internet access and Wi-Fi to 8,000 square feet of workshare or concept office space for small and start-up businesses. The building is expected to open by May 2020.
"As Nexton's technology partner, Home Telecom is a natural fit for CoOp@Nexton," said William S. Helmly, Home Telecom's president and CEO. "This high-tech building provides the ideal location and resources for employees, and the inclusion of concept offices fills a void for Summerville's growing number small-business owners."
The Spectrum Companies, a commercial real estate firm based in Charlotte, North Carolina, is developing a community of 345 apartment homes featuring a variety of floorplans as well as some carriage-style units, all with upscale design and finishes. Amenities include a resort-style saltwater pool and expansive clubhouse with two-story fitness center, pool-side lounge areas and grilling and fire pits areas across the property. Spectrum expects to break ground this fall and to welcome the community's first residents by spring of 2021.
"This project will provide a high-quality multifamily housing option and offer easy access to employment centers and lifestyle amenities in this fast-growing part of the Charleston region," said Spectrum Vice President Ian Wagoner. "We're proud to help build a sense of community in this exciting neighborhood with so many opportunities." 
Gas station and convenience store Refuel is also opening a 4,500-square-foot flagship store at CoOp@Nexton. This will be the brand's sixth Charleston-area location.
"As a company founded in Charleston, we're proud to have been selected for this exciting location," said Mark Jordan, Refuel Inc.'s owner and CEO. "Refuel at CoOp@Nexton will provide nearby employees, residents and visitors with healthy food, premium quality gas and top-notch service." 
Those interested can learn more about Home Telecom and CoOp@Nexton's available office space at Nexton Square's July 19 Sounds on the Square event. A family friendly summer concert series in partnership with the Town of Summerville, Sounds on the Square will feature music by The Caroline Keller Band and bites from Sportsbook of Charleston, Samira's Gyros & More and Gelati Moto along with free Wi-Fi provided by Home Telecom.
###
About Nexton
Nexton is owned by a business entity of North America Sekisui House, LLC (NASH), and is developed by Newland. NASH and Newland share a deep commitment to sustainable development practices and apply these core values to the vision, planning, and development of their projects. Nexton is one of more than 20 assets the NASHNewland partnership owns and manages together across the US. newlandco.com | nashcommunities.com      
Editorial Contact:
Cassie Cataline
843-708-8504
Media Contact:
Lou Hammond Group
Kelsey Donnelly / Parker Butler
kelseyd@louhammond.com / parkerb@louhammond.com
843-628-3426 / 843-628-6112