Events
November 22, 2019 6:00PM-8:00PM
Sounds on Hutchinson Square - Sideshow Americans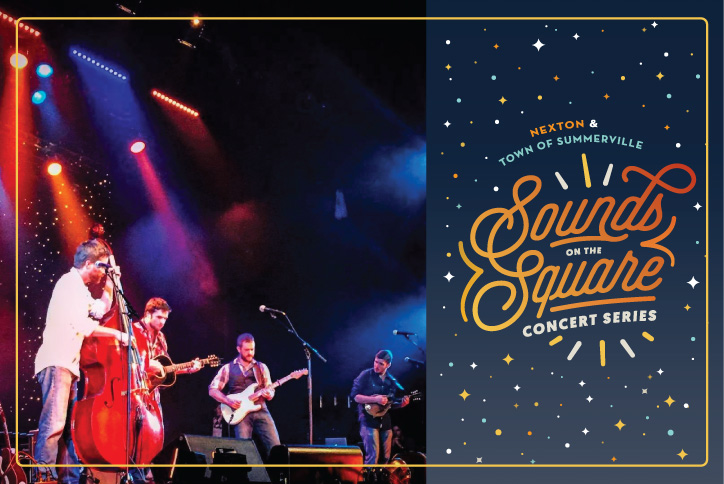 Sounds on the Square - Sideshow Americans
November 22 | HUTCHINSON SQUARE
Take I-26 exit 199A, head south on 17A for 2 miles and look for the square on your right
Here's your chance to soak up some summer fun in downtown Summerville's freshly renovated historic hub - Hutchinson Square. Sounds in the Square is a fabulously fun and family-friendly concert series brought to you by Nexton and the Town of Summerville, alternating locations to keep the summer vibes going all season long! The second concert in the series will feature Sideshow Americans, a four-piece Americana Rock 'n Roll band from Johns Island. 

THE TUNES
Hear songs from Sideshow Americans' debut EP Streetlights, an album steeped in Southeastern string band tradition, delivered in four-part harmony by bassist Whitt Algar, guitarists Ryan Bonner and Dan Wright, and multi-instrumentalist Cory Jarrett. Fresh work will be released by the group in late 2019, so you'll get to hear a little preview of what's to come, too!

THE EATS
Nosh on some all-American burgers and fries from Burgers 'N Freys, LLC, or  try fresh and flavorful quesadillas from Rolled Quesadillas - all served with a side of bomb sauce. Cool off with some delicious Kona Ice of Summerville. Yes, it's as good as it sounds. After you grab a bite to eat from one of our Food Trucks stop by and see Bojangles of Summerville for a FREE glass of ice cold refreshing Sweet Tea!
Of course, Hutchinson Square is flanked by a number of fantastic locally owned Summerville gems, like Homegrown Brewhouse, Accent on Wine, and Montreux Bar and Grill, so you'll have lots of options and places to explore. 
THANK YOU
A big thank you to The Summerville Shopkeepers, a collection of all downtown merchants, including: Accent on Wine, Cuppa Manna, East Winds, Eva's on Main, Everything Chic, Fly, Four Green Fields, Hanebrink Jewelers, Maggie Rose Boutique, Main Street Reads, Nailed it DIY Studios and People Places & Quilts for sponsoring this concert. 
Interested in being a sponsor? Email MBoisvert@summervillesc.gov for all the details.
More details to come. Don't forget to tag all your concert snaps with #soundsonthesquare!