Events
September 12, 2019 2:30PM-5:00PM
Work Outside Day/Team Building Event + Clothing Drive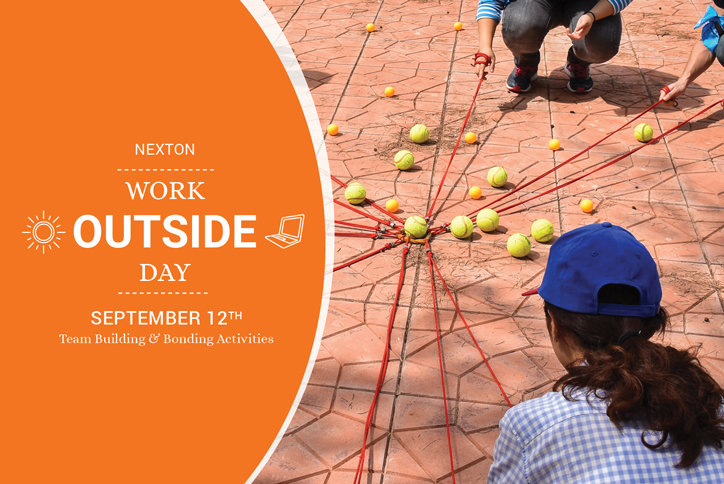 Nexton is a place that is innovative AND fun. A great place to live and work. A place that brings people together.
To celebrate the diversity we've created here at Nexton, we encourage employees from companies large and small to participate in Work Outside Day. This is a FREE opportunity for professional development, education, and team building. We'll start that day with an inspirational message from Ben Toy with On-Purpose Adventures, then his team will lead us on a journey of team building and bonding activities.
PROGRAM:
2:45 PM: Gather at the Greeting House Info Studio in Nexton 
Don company t-shirts and water bottles as organizers pair up your teams
3:00 PM: Keynote - When to Build and When to Bond
With competition for attention at an all-time high, it is important to know how to engage your team and encourage focus, camaraderie, and growth. Ben, of On-Purpose Adventures, will discuss how to create authentic connections and help managers and leaders know the difference between building their team and helping them bond. Both are important, vital in fact, and knowing that both are needed is key to developing and leading a productive, engaged and tight team.
3:30 - 5:00 PM Group Team Building Activities
You can join as an individual and be paired with others, or bring your entire team. With activities as simple as ripping paper, attendees will leave with increased awareness and focus on how intentionality in communication can reduce frustration while increasing effectiveness and efficiency. Join group team building activities designed to:
- Improve Communication
- Convey Vision
- Foster Creative Thinking
- Boost Leadership Skills 
5-6pm: Happy Hour at Taco Boy (Outdoor Greenhouse) 
Following the event, head over to Taco Boy at Nexton Square. Each attendee will get one free drink ticket and appetizers to share compliments of Nexton. 
Give Back to the Community
At the event, we will be accepting donations of nearly new, professional clothing to benefit Dress For Success, an organization that empowers people to achieve economic independence. Donations are limited to contemporary, seasonal, nearly new professional clothing, shoes, handbags, and accessories. If you would be comfortable wearing your donated item to an interview, we'll take it! Donations must be clean and ready to wear. Clothing should be neatly folded, as hangers are not needed.
Registration required by 9/9/19:workoutsideday.eventbrite.com

Directions: From exit 199B, turn left on Brighton Park Boulevard, stay straight at the stop sign at Rose Drive, drive about a mile then turn right onto Great Lawn Drive. The Greeting House is a brick building and will be on the left at the first stop sign. On-street parking is available. From exit 197, take the second right onto Brighton Park Boulevard and first left onto Oak Park Street. The Greeting House will be on the right. 
*Rain date will be Thursday, September 19 - same time and place!