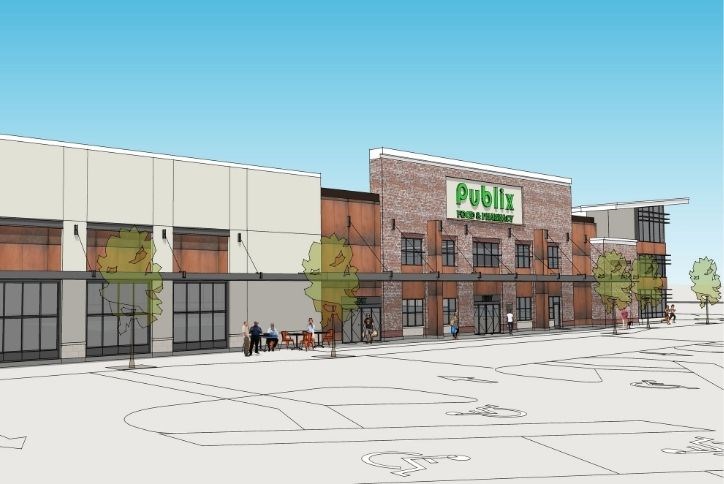 A Great Grocery Store and More at One Nexton
From great eateries and cute boutiques to innovative workplaces and future-ready homes, Nexton is a place where every day just feels a little easier. That's because all the goodness is wrapped up in an ultra-convenient setting, where you can complete the day's errands by spending a few minutes in your car or by peddling a few miles on your bike.
Speaking of bicycles, does yours have a basket on the handlebars? If not, you'll want to get on that. Publix Super Market is coming to the crossroads of Brighton Park Blvd and Nexton Parkway, for all your grocery-shopping needs. Meaning homeowners can cycle over to grab that missing dinner ingredient in a matter of minutes. If you're not familiar with Publix, you'll be glad to learn the much-loved, southern-born chain is also known for their distinct brand of hospitality and friendliness.
Breaking ground later this year, Publix is part of One Nexton, a whole new district that will bring together interesting shops, great restaurants, and growing businesses in an immersive community experience.  With featured green space for year-round programming and activities, plus additional parks and trails that connect to the greater community, One Nexton is a walkable, bikeable addition convenient to Nexton's residential areas and close to I-26.
Publix will anchor the first phase of One Nexton, which will also include 37,000 square feet of retail space as well as new apartments for those who want to skip homeownership.
Upon completion, Nexton residents and guests will enjoy 150,000 square feet of high-quality shopping and dining spaces throughout multiple phases. One Nexton will also include an office core, meaning more opportunities to move your growing business to Nexton.
For those of us who live, play, and work on the Nexton campus, it means commuting and errand-ing on your feet, bike or golf cart and leaving the car tucked in the garage. 
Look for a 2024 opening for Publix, but stay tuned for lots of exciting updates on One Nexton in the meantime.