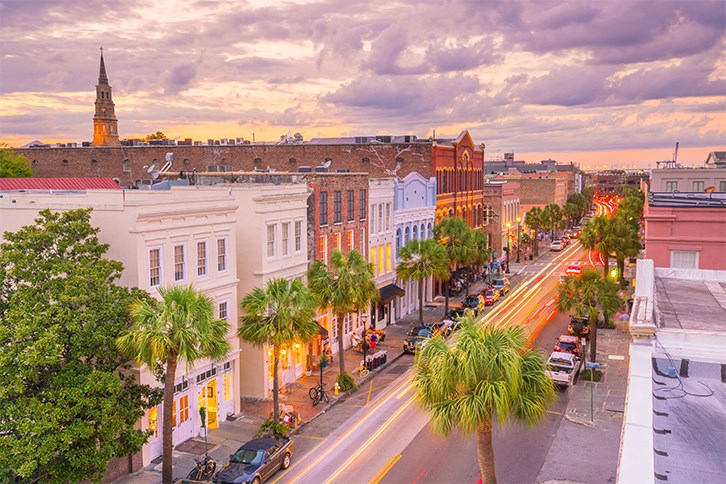 Roll Out the Red Carpet:  Summerville & Charleston Are Making Waves in 2023!
Hey there, lovely Nexton community! You feel that buzz? It's not just the cicadas; it's the sound of Summerville and Charleston making headlines! Our little slice of heaven has been catching eyes and winning hearts all over the country. Our little corner of South Carolina is getting some well-deserved limelight, and we're all about it. Pour yourself a glass of sweet tea, kick back on the porch, and let's dive into the good news.
Charleston's Culinary Landscape Takes Center Stage
First things first, Charleston's food game is strong! TripAdvisor gave us a loving nod, ranking Charleston as the #2 Best Food Destinations in the U.S. And for anyone who's taken a culinary trip through the city, Food & Wine is echoing what we already know - heralding Charleston #5 in the U.S. for Local Restaurants and #7 Best City for Food. 
With shout-outs to the best Thai of Lower King Street and the posh vibes of 167 Raw Oyster Bar on Upper King, we're practically a food map waiting to be explored. Plus, Food & Wine readers have a soft spot for our seaside dining. Ocean views and fresh seafood, anyone?
Charleston's Charm Continues to Captivate
It's no secret that Charleston exudes a charm that's hard to resist - and Southern Living thinks we're kind of a big deal. No really, they've crowned Charleston as the #1 Best City in the South this year! It's the history, the streets, the breezy Battery views - and it's no surprise.
Oh, and Travel and Leisure? They've named Charleston #1 City in America for an awe-inspiring eleventh consecutive year. Eleven years, folks. ELEVEN. They've been crushing on our Southern charm and irresistible King Street allure for over a decade. A round of applause, please!
Settle Into Summerville: A Family Haven
Speaking of applause, let's hear it for where our heart truly lies - right here in Summerville. Fortune's got our back, celebrating us the #31 Best Place to Live for Families in America. Between the aromatic parks, lively festivals, and the sweet claim to fame (yes, we're talking about that iconic sweet tea), Summerville is where Southern charm meets modern living. It's a community where memories are made, families bond, and dreams take flight. And, being home to Nexton, well, that's just the cherry on top!
Prosperity In The Palmetto State: Business is Booming
For our entrepreneurs and dreamers, South Carolina's star is shining bright. Recognized as the #8 Best State for Small Businesses by Lendio, our state is opening its arms to innovative ideas and entrepreneurial spirits. Charleston's job market hasn't gone unnoticed either. The Wall Street Journal praised us as a dynamic hub, ranking it #6 for Best Job Markets. Furthermore, budding professionals take note - Charleston is also the #6 Best City to Start a Career, says WalletHub.
Cheers to Us!
Every mention, every accolade - it's not just about the places but about all of us. They don't just shine a light on Summerville and Charleston; they're a reflection of our heart, our culture, and our passion. It's our collective spirit that's making waves. We, at Nexton, are grateful to be a part of this journey. Here's to many more community stories, milestones, and celebrations!
Catch you around the neighborhood!