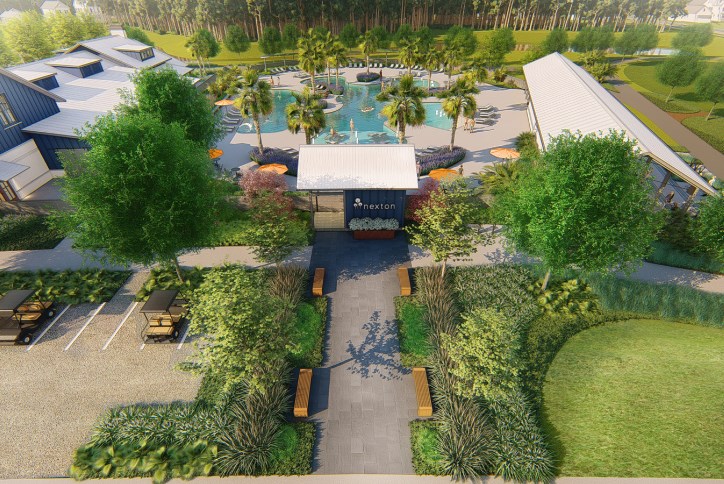 Nexton Unveils Midtown's Wellness, Pool and Racquet Club
SUMMERVILLE, S.C. – December 8, 2020 – Nexton, South Carolina's most innovative and walkable community, announced today the details of its Midtown club, an expansive amenity center located in the heart of Nexton's new neighborhood, Midtown. The 8,000-square-foot facility will be available to Nexton's Residential Association members in spring 2022.
"Nexton has always embraced a holistic approach to wellness, inviting our residents to explore our miles of trails and engage with neighbors through active events like the Cocoa Cup 5K and Yoga in the Park," said Nexton's VP of Operations Brent Gibadlo. "In providing an environment for neighbors to embrace Nexton's sense of community, the Midtown club will help facilitate the good health and positive wellbeing of Nexton residents."
Designed by Charleston-based architecture and interior design firm LS3P, the amenity center features a state-of-the-art fitness room and yoga studio, children's playroom, 7,200-square-foot resort-style pool, outdoor pavilion and event space. The center's two multipurpose rooms offer a combined 2,800 square feet of open space for a variety of uses, such as a remote workspace and recreational and event space. One of the rooms will additionally be available for private rentals for birthday celebrations, conferences, speaker series and more.
"The architecture and interior design were fashioned around traditional Lowcountry home styles, combining the sleek clean lines of contemporary design with a cozy cottage aesthetic. The light-filled layout provides airy and bright spaces to accommodate a variety of activities from gathering to fitness, and the casual interiors reflect Nexton's modern and urban ambiance," said Kelly Gilreath of LS3P Architects. "Using a mix of natural textures and neutral materials alongside bold accents and lighting creates a modern but timeless space where Nexton families can create lifelong memories."
The center's outdoor space, which was designed by landscape architecture and civil engineering firm SeamonWhiteside Associates, will complement the building's modern design with a formal park, open fields, sport courts, pavilion, playground and multi-purpose hiking and biking trail.
"The Midtown club provides a dynamic environment with thoughtfully planned outdoor spaces that will be enjoyed all day and even after sundown," said Mary Martinich, Landscape Architecture Team Leader of SeamonWhiteside Associates. "There is something for everyone at the club, whether you want to attend an outdoor fitness class or spend a day relaxing by the pool – it will truly be the next treasure for Nexton's active residents."
Construction on the Midtown club is expected to begin in February 2021 in Midtown's Blueway District, featuring approximately 700 homes. Upon completion, Midtown will offer 2,500 homes in a variety types and sizes and price ranges to meet growing demand. All of Nexton's residential neighborhoods and retail areas are connected and accessible by walking trails and bike lanes. Single-family homes and townhomes range in size from approximately 1,000 square feet to more than 3,500 square feet, with new model homes now open.
For more information on Nexton, visit www.nexton.com.
*Editor's Note: For high-resolution renderings of the Midtown club, visit: https://bit.ly/3mTrvL3.
###
About Nexton
Nexton is owned by a business entity of North America Sekisui House, LLC (NASH), and is developed by Newland. NASH and Newland share a deep commitment to sustainable development practices and apply these core values to the vision, planning, and development of their projects. Nexton is one of more than 20 assets the NASHNewland partnership owns and manages together across the US. newlandco.com | nashcommunities.com
About LS3P
LS3P is an architecture, interiors and planning firm celebrating over 57 years of design excellence. With deep regional roots and a national reach, we offer large-firm expertise and resources with small-firm relationships and service. In everything we do, we're guided by our vision: In our commitment to the Southeast, we create architecture that enriches community through a culture of design excellence, expertise, innovation, and collaborative engagement. At our core, we are a design firm, dedicated to engaging people in the process of architecture to create outstanding places to learn, live, work, heal and serve.
About SeamonWhiteside
SeamonWhiteside (SW+) is a full-service land design firm providing master planning, civil engineering, landscape architecture, urban design, land development management services and permit coordination to public and private clients throughout the Carolinas. SW+ believes that crafting great places is achieved by blending a deep understanding of a client's vision, strong relationships, collaborative design, and a passionate team. This approach results in innovative spaces that enrich lives and leave a lasting legacy for future generations. Headquartered in Mount Pleasant, South Carolina, SeamonWhiteside also has offices in Summerville, Greenville, Spartanburg and Charlotte, North Carolina. For more information on SW+, visit www.seamonwhiteside.com.
Media contact: nexton@louhammond.com