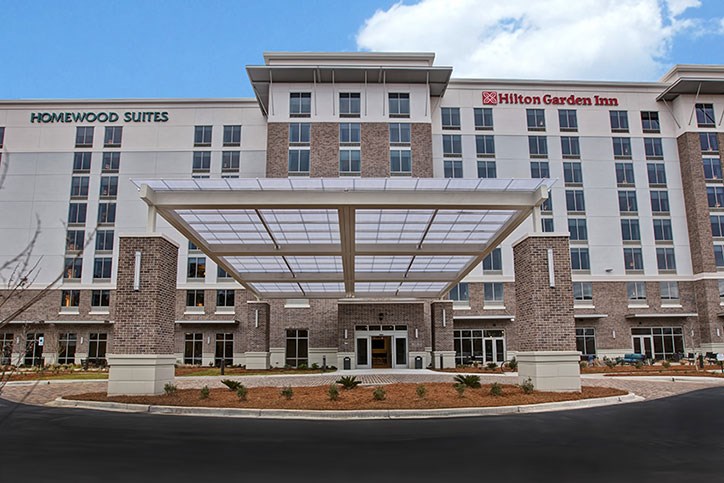 Lowcountry Hotels Announces Opening of Dual-Branded Hilton, Lowcountry Conference Center in Nexton
SUMMERVILLE, S.C. – March 26, 2020 – Lowcountry Hotels recently announced the grand opening of the Hilton Garden Inn-Homewood Suites Summerville and Lowcountry Conference Center. The property opened at the corner of Sigma Drive and Edge Street in Nexton, a 5,000-acre master-planned community in the heart of Charleston's I-26 growth corridor in Summerville.
The dual-branded hotel features 250 rooms, resort amenities and direct access to the connected Lowcountry Conference Center, which serves as the largest event space in the Summerville/Berkeley County region for weddings, corporate events and conventions.
"We chose to build this property in Nexton because of its proximity to the region's largest employers, such as Volvo Cars and Mercedes-Benz, and its walkability to nearby shopping and dining destinations like Nexton Square," said Scott Fennell, president of Lowcountry Hotels.
In addition to a 7,000-square foot ballroom, the conference center offers two large meeting areas, which can each be divided into three rooms for breakout sessions or smaller events for a total of 14,000 square feet of meeting and event space. The expansive grand ballroom additionally features a unique rear entryway suited for automobile access to serve the area's growing manufacturing facilities.
"The hotel and conference center were thoughtfully designed to meet the needs of Berkeley County's residents and visitors and to support the business community's efforts to foster the region's growing job corridor," said Brent Gibadlo, vice president and general manager of Nexton.
The dual-brand hotel concept caters to traditional and extended-stay guests by pairing two brands under one roof to consolidate amenity spaces and back-of-house-operations for maximum efficiency. Rooms range from standard business rooms to family sized suites. Guests can enjoy premier amenities including a full-service restaurant, bar and lounge, resort-style pool with cabana, several outdoor green spaces, workout facility and business center.
"The highly anticipated opening of this hotel and conference center is the culmination of years of hard work and we are incredibly thankful to celebrate this achievement with the community and our project partners," said Frampton Construction CEO Chad Frampton.
Design and construction services were provided by general contractor Frampton Construction of Ladson, S.C. and Memphis-based Bounds, Gillespie, Killebrew, Tushek Architects, PLLC.
About Lowcountry Hotels:
Lowcountry Hotels is the hotel development and management company division of Fennell Holdings, with award-winning properties and staff leading the way in hospitality in Charleston, SC. With a focus on dependability, efficiency, and customer focus, Lowcountry Hotels takes pride in their reputation for excellence in service and accommodations. Lowcountry Hotels offers their exception hospitality to guests in their three Convention Center area hotels, Historic Downtown boutique, the Ansonborough Inn, Staybridge Suites in Mount Pleasant, and this new venture in Summerville. For more information, please visit www.lowcountryhotels.com or call 843-723-0009.
About Nexton
Nexton is owned by a business entity of North America Sekisui House, LLC (NASH), and is developed by Newland. NASH and Newland share a deep commitment to sustainable development practices and apply these core values to the vision, planning, and development of their projects. Nexton is one of more than 20 assets the NASHNewland partnership owns and manages together across the US. newlandco.com | nashcommunities.com 
Media Contacts:
Lou Hammond Group, nexton@louhammond.com