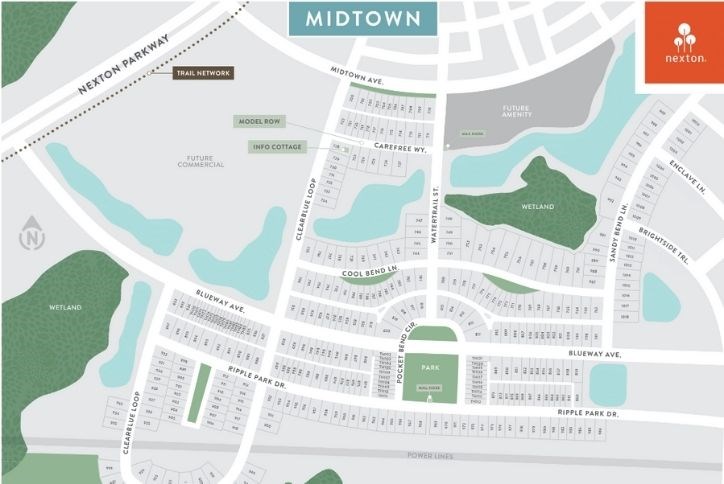 Nexton Unveils Next Development Chapter with Midtown

SUMMERVILLE, S.C. – October 19, 2020 – Nexton, South Carolina's most innovative and walkable community, announced today the details of Midtown, its latest development phase. Upon completion, Midtown will consist of more than 2,500 homes, the first of which will be delivered in early 2021 with pre-sales beginning in October 2020.
Featuring single-family homes, townhomes and multifamily residences, Midtown offers diverse home types and sizes catering to a variety of lifestyles and preferences. Single-family homes range in size from approximately 1,000 square feet to more than 3,500 square feet, with lot sizes ranging from 30-70 feet in width. Midtown's model homes are now open.
Inspired by traditional town and village layouts, Midtown's master plan will be organized into five unique districts spanning 1,000 acres. Higher-density living and commercial options such as apartment flats and townhomes, retail shops and restaurants will be located in the Central District, Midtown's urban core, with lower-density living options, such as single-family homes, located along the perimeter of the district.
The Blueway District will be the initial phase at Midtown. Named for its many waterways that are part of Nexton's holistic storm water management plan, the district will include approximately 700 homes in addition to a neighborhood wellness center featuring fitness facilities, a resort-style pool, parks, meeting spaces and racquetball courts.
"Midtown is the next chapter in the evolution of Nexton," said Brent Gibadlo, vice president and general manager of Nexton. "Our region's successful economic growth and attractive quality of life has created a crucial demand for homes, schools and everyday community needs such as dining and retail options. Nexton's mission has been to address this influx with a thoughtfully designed master plan and self-sustaining environment that improves the wellbeing of our residents, employees and our visitors."
Midtown's homes, shops and amenities will feature a modern take on historic, Charleston-inspired design elements, incorporating oversized porches, coastal shutters, gas lanterns and brick elements. While each new district will possess distinctive characteristics, such as fountains or gardens, all will include parks, green spaces and a connected nature and bike trail system.
Nexton's current builder program at Midtown includes New Leaf Builders, Saussy Burbank, David Weekley Homes, Ashton Woods, Pulte Homes and Homes by Dickerson.
For more information and to see Midtown's available selection of floorplans: visit: https://bit.ly/3k9pnwW.
*Editor's Note: For a Midtown community map, visit here: https://bit.ly/30LzII2.
###
About Nexton
Nexton is owned by a business entity of North America Sekisui House, LLC (NASH), and is developed by Newland. NASH and Newland share a deep commitment to sustainable development practices and apply these core values to the vision, planning, and development of their projects. Nexton is one of more than 20 assets the NASHNewland partnership owns and manages together across the US. newlandco.com | nashcommunities.com
Media Contact: nexton@louhammond.com