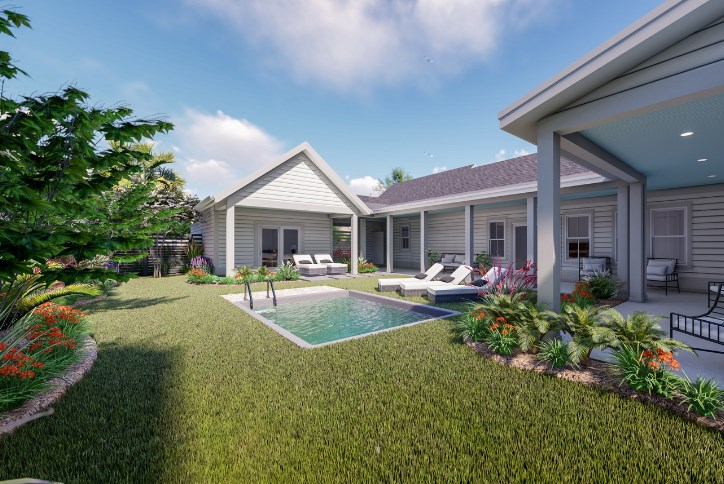 New Leaf Builders Recognized for Innovative Home Designs at Nexton
SUMMERVILLE, S.C. – March 17, 2021 – Nexton, South Carolina's most innovative and walkable community, is pleased to announce one of its homebuilders, New Leaf Builders, as a recipient of Newland's inaugural Robert B. McLeod Partners in Placemaking Award. Nexton's developer, Newland, actively owns, operates and develops premier master-planned residential, commercial and urban mixed-use real estate across the U.S.
Charleston-based New Leaf was recognized by Newland for its homebuyer-first design of innovative courtyard homes with flexibility and appeal to first-time, multi-generational and downsizing home buyers. The award also considers financial contributions to community service and charitable organizations serving the needs of veterans, food banks and sustainability-focused organizations.
"Nexton thoughtfully selects our award-winning homebuilders to help bring our community's cornerstones of wellness, diversity and innovation to life through valuable regional market insight and novel home designs," said Nexton's Marketing Director Cassie Cataline. "We are honored to celebrate New Leaf Builders with this exciting recognition."
New Leaf's new collection, the Vicolo Series, expands on the qualities of its popular Domus Collection, which draws inspiration from the Roman outdoor architectural style where residents enjoy seamless indoor and outdoor living with private fenced courtyards.
Available at Nexton's new neighborhood, Midtown, the Vicolo Series' Aneto, Cannella, Rosamarino and Salvia home designs epitomize Nexton's front-porch lifestyle. Coveted double front porches are available on select elevations with fully attached two-car garages expertly tucked off the streetscape.
Nexton's current homebuilder program includes Ashton Woods, Centex, David Weekley Homes, Del Webb, Homes by Dickerson, New Leaf Builders, Pulte Homes, Saussy Burbank and TrueHomes.
To learn more about Nexton, visit: www.nexton.com.
*Editor's Note: For Domus Collection renderings, visit: http://bit.ly/3uKfwUe. Credit: New Leaf Builders
###
About Nexton
Nexton is owned by a business entity of North America Sekisui House, LLC (NASH), and is developed by Newland. NASH and Newland share a deep commitment to sustainable development practices and apply these core values to the vision, planning, and development of their projects. Recognized as a Top 50 Selling Master-Planned Community in the U.S. by Robert Charles Lesser & Co. (RCLCO), Nexton is one of more than 20 assets the NASHNewland partnership owns and manages together across the U.S. newlandco.com | nashcommunities.com
About Newland Real Estate Group, LLC
Newland is a diversified real estate company leveraging a national platform and over five decades of experience. Newland actively owns, operates and develops premier master-planned residential, commercial, and urban mixed-use real estate across the US. Headquartered in San Diego, Calif., Newland and its affiliated companies have completed or have underway more than 140 diverse real estate developments in 13 states. For more information, please visit newlandco.com.
Media Contact: nexton@louhammond.com