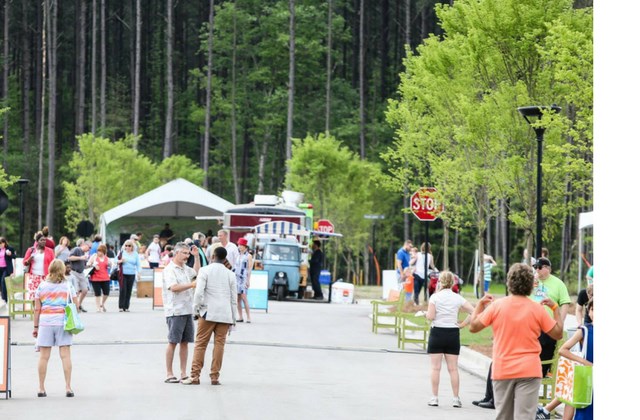 It was a grand opening!
Even the rain couldn't dampen the community spirit of over 700 people who came to celebrate the unveiling of our first residential village, Brighton Park. It was a big day. Filled with great food, live music, fun workshops and, as one of our guests told us, "some of the coolest homes ever." (Speaking of which, seven homes in Brighton Park Village have already sold.)
The first home sold was to a Texas family that attended the January "Meet the Builder" event. They were so taken by the plans for the community, they purchased a home from Pulte.
And appropriately enough for this super connected community, the couple will work digitally to sort through options for home finishes, then Skype with sales manager Paul Schaff to make final selections.
They will be right at home in Nexton. At Saturday's Grand Opening, the best-attended seminar event was by the Event Nerd who focused on "Life Tech," giving us a look into innovation and technology and how it affects our lives. Big opportunities for using GigaFi in the very near future!
If you were one of those who came out for our coming out party, thank you! And if you couldn't make it to the debut, no worries. Our Front Porch Info Studio and model homes are open daily. So drop by, grab a glass of a-tad-sweet tea, tour the models and have a little party of your own!
Some fun photos of the day are above. More to come on our Facebook page!