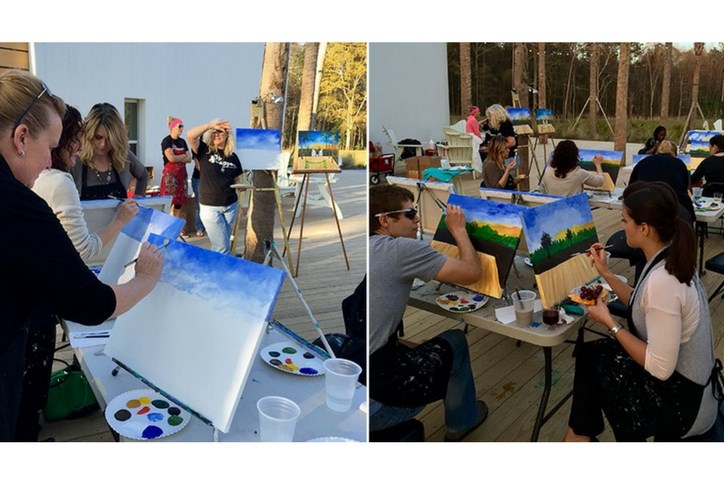 Painting on the Porch
The Front Porch was filled with participants ready to unleash their inner artist at our Painting on the Porch event on Friday, March 20th.
Before donning painting smocks, community members mixed and mingled while enjoying wine and light bites provided by Just Eat This! Chef Chris created a variety of appetizing options - from mini crab cakes to caprese bites and a beautiful fruit tray.
Then it was time to choose a seat for a step-by-step painting class lead by Bottles N' Brushes. The painting instructor, Shelby, recreated on canvas the scene before us - the peaceful Front Porch backdrop. Intricate landscaping features, particulars of the elaborate wooden deck, the cozy Adirondack chairs, and the bright green joggling board all materialized before her - and amazingly, to us! Turns out, with the right instruction, some things that are seemingly difficult to paint can be quite easy! We chalk it up to Shelby's excellent teaching techniques and the help of her skillful assistants. Paintings were complete just in time to enjoy a gorgeous sunset.
Stay tuned in to our Facebook page for updates with more Front Porch events and other announcements at Nexton. We look forward to seeing you!