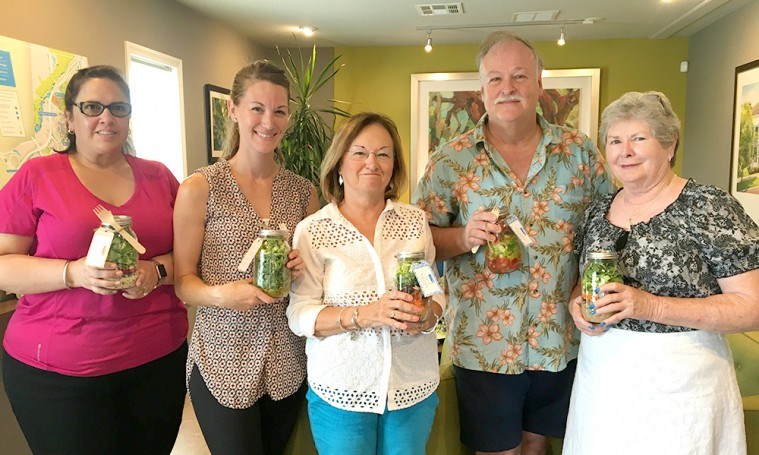 Salad-spiration Sunday at the Front Porch
Salad-Spiration: inspiring tips, tricks + recipes to kick your favorite salad up a notch
We think everyone that spent some time with us on Sunday at the Front Porch was indeed inspired! Guests went home with a bit more than what they came with whether it be a helpful tip on salads and dressings, info on the Gruber Farms CSA program, what a Tower Garden entails, or simply their very own salad in a Jar.
Here's what we learned:
Stanley, the farmer at Gruber Farms, shared insight into a working farm and what's currently in season, including a brief description of the CSA program. Nexton is a drop-off location for the program, meaning you can sign up and pick-up a box of fresh veggie each week at the Front Porch!
Kandice Powell of Healthy Living Y'all taught us how to grow nutrient-rich herbs and veggies year-round with the efficient, space-saving Tower Garden. This vertical garden system can grow up to 20 crops at a time and even has options for lighting attachments to allow for indoor gardening during colder months. She brought the impressive innovation to our event, and its just as cool as it sounds.
Livia Kulczycky, personal chef and one of our own Front Porch Info Studio concierges, wrapped up the presentations with some great info on the ease and benefits of homemade salad dressings, ideas on putting together nutritious and unique salads, and some guidance for the main event: putting together the salads-in-a-jar.
Inside the Info Studio was a buffet of colorful and fresh salad ingredients, many of which were provided by Gruber Farms and all of which were labeled complete with nutritional facts and health benefits! Guests were invited to choose from three types of salad greens, fruits and veggies, grains and legumes, three kinds of cheeses, nuts and seeds, fresh herbs, and four different dressings prepped by Livia: Dill Caesar, Creamy Balsamic Vinaigrette, Mojito Vinaigrette, and Citrus Basil Vinaigrette. Folks had a blast building their salads and took home recipes for all 4 dressings.
It was a wonderful day of education, healthy eating, and bringing folks together three of the cornerstones here at Nexton.
We encourage you to check out our healthy, active Summerville, SC community for yourself. Visit our move-in ready homes and models from three builders, but be sure to start your tour at the Front Porch Info Studio!