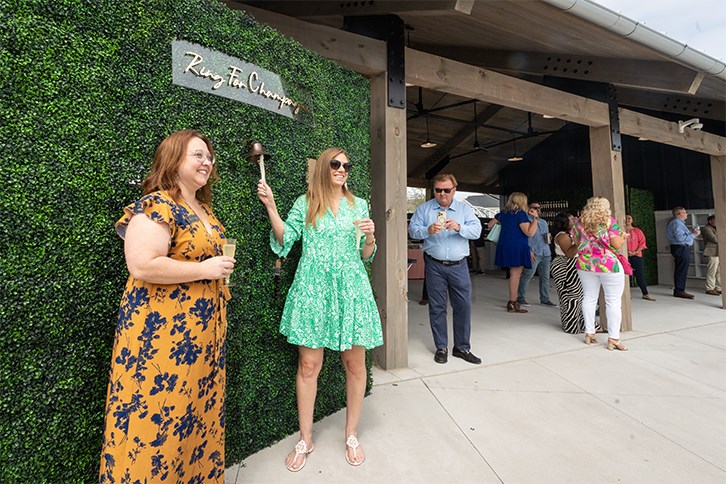 10 Years of Nexton: Realtor Celebration with CTAR
We celebrated 10 years of Nexton this spring, and of course, we did it in true Nexton style. With a delicious elevated brunch served up poolside by Cru Catering, some fresh Nexton swag, remarks from the SC Ports Authority and CTAR President Katesha Breland, and, perhaps most memorably, with a living champagne wall that was equal parts elegant and fun. You know, kind of like Nexton. In case you can't imagine such a thing, don't miss the photos here. 
What's happened at Nexton in 10 years? Well, how much time do you have? For starters, we have sold 2,500+homes since opening with 75% Realtor participation. That's $890 million in sales and $26 million in commissions paid to our hard-working Realtor network. If you're part of it, thank you. We really, truly couldn't have done it without you! 
Nexton has also been voted community of the year (year after year) and became a bona fide third-job center in the Charleston market. This is thanks to our easy access to I-26 to the west, including Volvo, Camp Hall, Redwood Material and Walmart Distribution Center to name a few, and proximity to Charleston to the east. The Port, too, is providing companies unparalleled access to the global economy to SC-based companies, further bolstering the region's growth. 
Coming up, Nexton will celebrate the opening of the much-anticipated Harris Teeter and Publix grocery stores, continue adding regional and national favorites to our shopping & dining areas (The Co-Op Eatery and Frose, Pickle Bar, and Biergarten are next on the docket) like The Hub and Dayfield Park, and welcome Downtown Nexton's first tenants. 
MUSC, a 140-bed hospital with a cancer center, and a new middle school will also start to materialize in the next few years. 
On the residential side, nine builders across three neighborhoods truly offer something for everyone here at Nexton. From townhomes to multi-generational homes, buyers can choose from more than 100 total home plans. 
If you're a real estate agent not already capitalizing on Nextons growth, there's still time. We're only half way through our master plan! Get started learning about Nexton today, then bring your buyers out to see us. There's so much to explore!