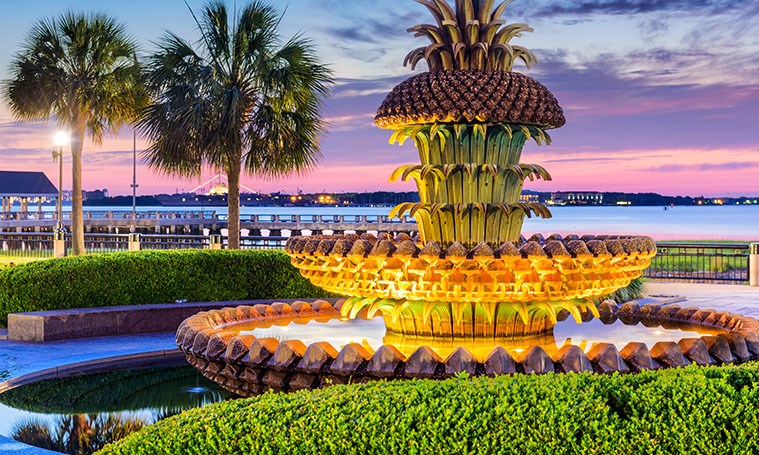 One Weekend In Charleston
One of the most celebrated cities in the world, Charleston offers everything from beaches and rivers to history and art. You've got one weekend here. How do you narrow down all the fabulous opportunities? Don't worry - we've done the hard work for you. Below, an itinerary for one unforgettable weekend in Charleston.
Friday evening.
Kick the weekend off right with a cocktail at the Gin Joint, a small, speak-easy themed bar with a seasonal menu. The 1920s-inspired interior makes it feel like you've travelled through time, and the bright, delicious cocktails will have you falling for Charleston in an instant.
Take the half mile walk to FIG at a stroll - you're in the south after all, and you'll want to be hungry for what comes next. Helmed by two James Beard Award-winning chefs, FIG always exceeds expectations. The ever-changing menu is fresh, flavorful, and exquisitely prepared. FIG stands for Food Is Good, and we're not exaggerating to say that's the understatement of the century in this restaurant. Insider tip: Make a reservation in advance. Right now is good. We'll wait.
In your post-dinner afterglow, take the long way to your next stop, Dock Street Theater, and enjoy the sights and sounds of the French Quarter. Historic churches and charming architecture lead the way to America's oldest theater. The setting is historic, and the shows are thoroughly excellent. 2018's line-up includes The Giver, Helium, and Shakespeare in Love.
Up for a nightcap? Check out The Blind Tiger, a prohibition-era pub with a historic, shady courtyard and a big menu of brews and spirits.
Saturday.
Breakfasts don't get better than Hominy Grill, another restaurant lead by a James Beard Award-winning chef. The restaurant's been featured on Food Network half a dozen times, and for good reason. Try the "Big Nasty." You'll thank us later.
Bellies full, it's time to see the city. Make your way to the Battery, a defensive seawall and promenade known for the grand antebellum homes. Make your way past Rainbow Row until you hit Waterfront Park. Stop for a photo op with the pineapple fountain, and walk out to the end of the pier and look for dolphins. Two more blocks to Charleston City Market, one of the nation's oldest. Grab lunch - oysters and other locally-caught seafood - at Amen Street.
Next, head to Sullivan's Island for some beach time. Clocking in at 3.3 square miles, this tiny town is worth the visit. Wide beaches, friendly people, and great food. For dinner, try Poe's, named for, you guessed it, Edgar Allen Poe, who was enlisted and stationed on Sullivan's Island.
If you're interested for a nightcap, round 2, try one of the fabulous rooftop bars downtown. Stars and The Rooftop at Vendue are popular choices.
Sunday.
Start your Sunday with a visit to historic Middleton Place Plantation. The National Historic Landmark includes 65 acres of beautifully landscaped gardens, a historic home built in 1755, and plantation stableyards where you'll feel like time has stopped. The onsite restaurant is where you'll want to grab lunch. Traditional Lowcountry favorites like she-crab soup and shrimp and grits are among the yummy selections. Much of the produce is harvest just outside in Charleston's only organic farm.
Continue into Summerville until you reach The Greeting House here at Nexton. We can't wait to tell you all about our growing community and introduce you to our talented builders.
Still have time to kill? The Angel Oak is breathtaking, Shem Creek is a great spot for dining and dolphin watching, and King Street is a shopping-lovers dream. There's also RiverDogs baseball and Stingrays hockey. Horse drawn carriage tours. Dozens of craft breweries. Hiking trails through Frances Beidlar Forest. Maybe you should stay a week? We'll get to work on that itinerary.
Our charming new homes community in Summerville, SC is just minutes from Charleston, voted #1 small city in the country. Want to make it home? See available homes and learn more about life at Nexton.