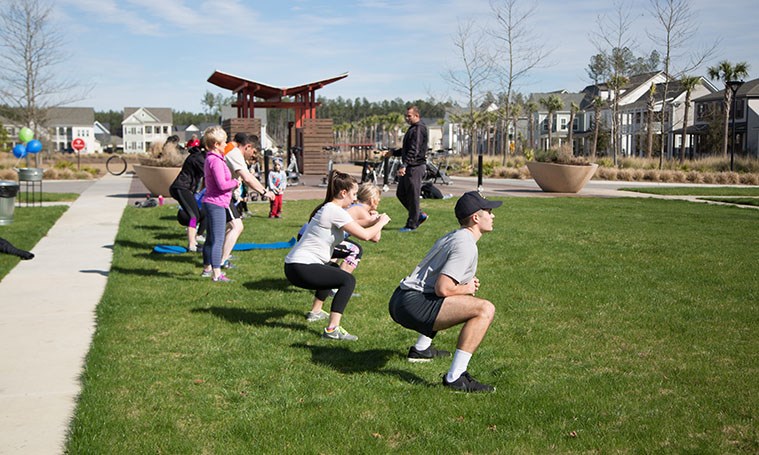 Staying Fit in Summerville
You already know that Nexton is chock full of trails and pathways where you can burn calories and build muscle by running, jogging, walking, or biking (a community favorite). Open grassy fields found in our many parks - Brighton Park being most notable - are also perfect for taking in some fresh air while you do cardio, resistance training, or even yoga. And outside of Nexton, you'll find a whole town that offers a number of fun and fierce ways to keep your body moving all year long, no matter your skill level. Below, a few different ways to get your steps in, and then some, around town.
Get outside. Beyond the boundaries of our community, Summerville offers a plethora of excellent parks and trails to keep your blood running. Sawmill Branch Trail is a 6.5 mile paved trail that winds through a wooded area along Sawmill Branch Canal. Keep an eye out for wildlife perusing the shallow water, like herons and egrets (and perhaps the occasional gator). Alternatively, Azalea Park is known for its spectacular display of azaleas and camellias each year, but it's also great for a brisk walk taking in the sights and sounds of Summerville. Of course, if you'd rather get fit while on the water, there are a number of ways to do so. Check them out here.
Hit the gym. Whether you prefer a no-frills gym experience or an intensive, class-based workout, Summerville offers a number of options. O2 Fitness (who recently sponsored the Cocoa Cup - thanks, O2!) is open 24/7 for those with unpredictable hours, and even offers a kid's club during certain times of day. Try their group exercise classes, high-quality cardio machines, and inquire about personal trainers for a tailored program. The Summerville Family MCA is another favorite. You'll find a number of programs across three locations, including spin and water aerobics classes, barre, Zumba, and Pilates. Orangetheory is also just minutes from Nexton. The group sessions last 60-minutes and focus on getting your heart pumping and calories burning. Bo is a big fan of Orangetheory. Check them out!
Join a club. Keep accountable for this year's fitness goals by joining a fitness group. FiA, Females in Action, is a faith-based group that meets at varying locations around Summerville nearly every day of the week. For men, F3 offers a similar experience. These clubs will keep you moving and allow you to meet new people (great for those relocating to the Charleston area!). ChuckTown Social is another people-focused group regularly meeting in Summerville. This group organizes bocce, bowling, volleyball and other similar sporting events for just about anyone interested - everyone's invited!
Kick start the year with Commit to Be Fit. You've made the resolution. We're ready to help you keep it. Join us January 27th from 11 am to 2 pm at the Greeting House for a great afternoon of fitness, fun, and good eats! Take one of many fitness classes, join challenges to win prizes from local vendors, taste-test some of the region's healthiest food trucks, and enter to win giveaways to keep you on track for 2018. Keep an eye out on our Facebook event for registration info!
Want to know more about our fitness-focused community in Summerville, SC? Read about our growing community and available homes. Then drop by!