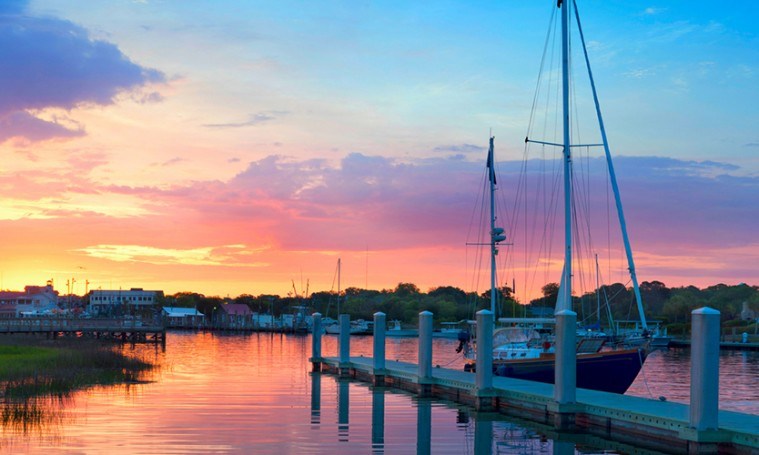 It's time to hit the water!
At Nexton, life is a little more efficient. More fulfilling. More fun! That's all thanks to a delicious blend of parks, trails, eateries, a great school, a fabulous pool, and an emerging retail center. But we know part of the draw to Nexton also lies in its proximity to the world's #1 city (really!). Beautiful, historic Charleston is just 25 minutes away, and that means some of the state's best opportunities for getting outside – and on the water – are just beyond. Below, we've rounded up some of our favorite ways to enjoy our region's waterways.
I'm on a boat
Boating is big in South Carolina. The state ranks #8 nationally for boat ownership, and many were built right here in the Charleston region. Key West Boats, Scout Boats, and Sea Fox Boats are all local companies shipping fab water crafts all over the world, while keeping the Charleston waterways full of locally-made boats.
Do this: Take your family for a test ride and get ready for spring, summer and fall on the water (thanks to our great weather – boat season is nearly year-round). Some of our local treasures include Shem Creek for dining and nightlife, and Boneyard Beach on Capers Island, accessible only by boat and a dream for those seeking a little seclusion and a lot of natural beauty.
Paddles at the ready
Kayaking and stand-up paddle boarding are excellent ways to enjoy the Charleston-area waters. Tidal creeks and rivers are exceptional settings for admiring wildlife, soaking up the sea air, and even fishing.
Do this: Grab your poles and launch a kayak at Paradise Island boat landing on the upper Wando River. Bring bait for trout, red fish, and flounder. If the tide's right, you'll want to make sure you've packed a cooler, too! If stand up paddle boarding is more your style, rent one from Charleston Outdoor Adventures on Bowen's Island and explore the tidal creeks behind Folly Beach.
Life's a beach
From a high-class golf resort to a laid-back eclectic beach community, each of the Charleston area's beaches has something unique to offer.
Do this: Head to Sullivan's Island for a laid-back morning on the beach. Enjoy lunch at Poe's, named for former Sullivan's Island resident Edgar Allan Poe. Then spend the afternoon at Fort Moultrie, a revolutionary-era fort famous for its palmetto log construction. Fun fact: the fort inspired the South Carolina flag and the state's nickname, "The Palmetto State."