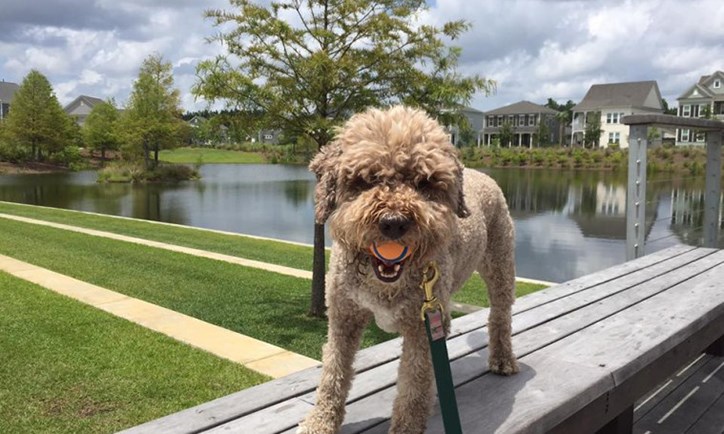 Four signs of a dog-friendly community
Nexton offers a little something for everyone. Smart, beautiful homes. Cool parks and first-class amenities. Good coffee and great schools. And since we believe a great community features something for every member of the family - even the four-legged ones - we've rounded up four signs a place is a great choice for your fuzzy family members. (Pssst...we think you'll find them all at Nexton!)
Safe, fun places to walk. Fido will have so much to sniff and explore along Nexton's miles of parks and trails. World-class botanists and landscape architects have designed the network of green spaces to connect the community, so your daily walks can be as long or as short as you'd like. Enjoy a stroll around the Great Lawn, with one side featuring a winding path surrounded by trees and plantings. On the other, a straight sidewalk path lined with stately palms. Or take a jog with your pup down Brighton Park Boulevard trail, where you can take a break at "The Folly," a shady oasis where you can rest two or four legs.
Lots of tails wagging. A good sign that your fuzzy friend will be happy is the number of other dogs you see milling about. Pet activity is a good indicator that your neighbors are likely to welcome your pup. It also means moral support for owners in the event your pup runs off or has a medical issue. Fido will also be happy to hear that it means he has lots of friends to enjoy the trails and parks with! Around Nexton, we've run into Riva enjoying her ball, Nico from New Jersey, and Isabeau on a walk around Brighton Park. Visit just about any time of day to see this is just the tip of the fur-covered iceberg!
Dog-services are close by. Sangaree Animal Hospital is just minutes from any home at Nexton, and at least 5 additional vets are within a 10 minute drive. Petco and PetSmart are both less than 10 minutes away, meaning yummy treats and healthful food are never a nuisance to stock up on. There's also a variety of other pet services – independent pet stores, dog trainers, dog groomers, and doggy day cares – throughout our charming town. Fido will be fit as a fiddle.
A dog park filled with happy dogs. This one may be obvious, but what could signal a pet-friendly community more than a dog park? You may be wondering, "A dog park at Nexton?" Well, here's the great news: there's one in the works for residents of the Nexton Residential POA. 
Thinking of joining our dog-friendly Summerville community? Learn about villages, homes, and our community, then plan a visit!