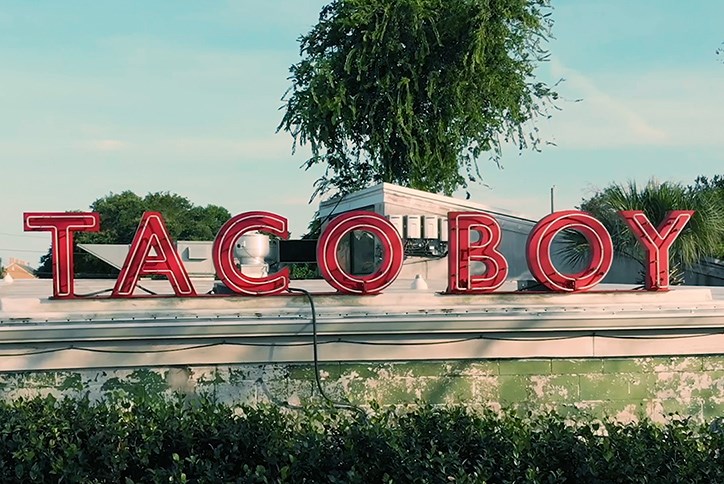 Shop & Dine at Nexton: Taco Boy Opening Spring 2019
Update: Taco Boy is now open at Nexton! It's time to fiesta!
Taco and tequila lovers: Rejoice! A flavorful food fiesta is coming to Nexton.
Of the hundreds of fantastic culinary spots throughout the city of Charleston, one consistently pops up in conversation: Taco Boy. Founded in 2007, it's a fun, playful atmosphere with flavorful tacos, fresh frozen drinks (tequila optional but highly recommended), and the best queso this side of the Mississippi.
That's why we're so excited to include Taco Boy in the list of restaurants set to open in Nexton Square next spring. We caught up with founder Karalee Niselsen Fallert to hear more about the Taco Boy coming to Summerville. Read more below, or watch the video below! 
California dreaming 
Karalee's biggest inspiration for Taco Boy came from the place she grew up: the California coast. After surfing, Karalee and her friends would hit up local taco trucks along the beach. When she moved to Charleston, she wanted to recreate that experience.
Unique vibes 
Though much of the festive décor is sourced on trips to Mexico, each Taco Boy has a distinct vibe. Downtown takes on an urban revival theme, with colorful and quirky reclaimed and rehabbed décor. Post up at the bar counter, made from a fallen walnut tree, or kick back behind the "living fence" on the cozy patio. Taco Boy Folly Beach feels similar, but distinctly beachy and in tune with the relaxed Folly Beach vibe. Vibrant, cheerful, and fiesta-ready.
Taco Boy Nexton will take a unique, modern approach to the festive Taco Boy brand. We can't wait to see what they come up with!  
Tasty tacos and signature drinks
More than a dozen tacos don the menu, with favorites like Baja Fish, Kimchi Beef, and Fried Chicken drawing crowds for lunch and dinner alike. Vegetarians and health-conscious taco lovers will also find the menu friendly. Try the Tempura Avocado tacos, fresh salads, and fab starters like Mexican Street Corn. And be sure to start your meal with the appetizer trio (jalapeño tomato salsa, chile con queso & guacamole). Trust us.
Quench your thirst with a Frozen Screwdriver, pioneered by Taco Boy. Or try a tequila flight, mezcal sippers, or one of many refreshing cervezas. And all the cocktails are made with fresh juices and house-made mixes.
Community-minded
It's another reason we're so proud to have Taco Boy as part of the Nexton family: a concerted effort to bring good to the communities in which they operate. They're founders of The Green Heart Project, a farm-to-school program that utilizes urban farms as vehicles for teaching students the lessons of respect, teamwork, accountability and entrepreneurship as they work alongside volunteers in the gardens.
We are so proud to have this Charleston-favorite join our growing community. Stay tuned for an exact opening date for Taco Boy Summerville at Nexton. The first happy hour is on us!