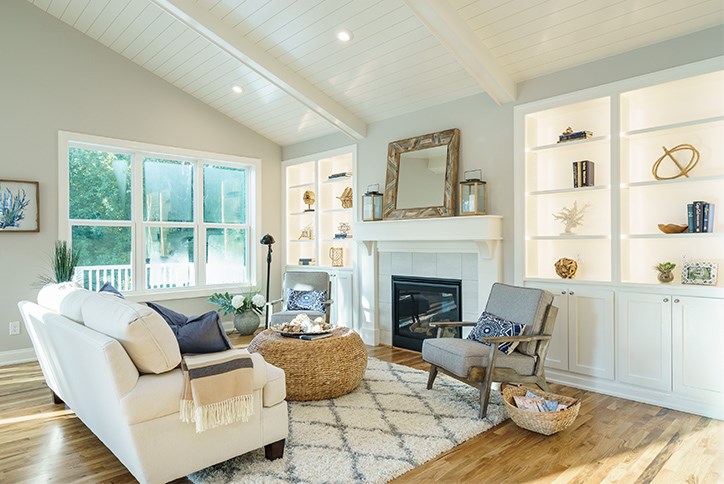 Meet the new builder: Homes by Dickerson at Nexton
Building with Homes by Dickerson means more than just selecting a floorplan and a package of finishes. It's a customized experience based on your lifestyle, inspirations, and aspirations. Below, a look at one of the newest builders to call Nexton home, and why we think they're a perfect fit for our growing community.
Customized for you
The talented folks at Homes by Dickerson like a challenge, so they'll never shy from hearing your wildest ideas. You'll work with their expert building team to review and customize one of their award-winning floorplans. Find that the only thing missing is a special spot for Spot? Build in a pet feeding and bathing station. Want temperature-controlled wine storage? Work it into your kitchen plan. Would your primary bedroom be perfect with just a few more feet? They'll borrow them from a space you use less. This flexible approach guarantees a home that works for you and your family, from the moment you first step through the door.
Of course, this focus on customization shines through to finishes, too. That means you can literally see your Pinterest boards come to life through stylish backsplashes, custom paint colors, and fabulous light fixtures.
And you can rest assured your unique home plans will be executed in precise fashion. Homes by Dickerson is dedicated to a flawless fit-and-finish. A commitment to high-performance green features also means an energy-efficient home that's comfortable, healthful, and sustainable for the Earth and your budget. 
From floorboard to fan blade, Homes by Dickerson maintains the highest standards of design, craftsmanship and elegance, creating a unique  home that's right for you.
Homes by Dickerson at Nexton
In October you'll be able to tour a beautifully appointed Mendenhall model home, a new plan exclusive to Nexton. You'll recognize Nexton's signature, fresh Lowcountry vibe on the exterior, and find clean lines, open views, and refreshing finishes inside. The Mendenhall is a 1.5 story primary bedroom-down plan that includes a front loading garage, giving homeowners a little more room in the backyard.  
The Magnolia by Homes by Dickerson is another floorplan option exclusive to Nexton, as well as a handful of addition floorplans in the works. Dickerson's homes will range from 1900-2400 sf and include a single story floorplan.
Come see them today at the Greeting House annex,  attend our Fall Street Fair + Food Truck Rodeo, or spend a Sunday afternoon at the Home Design Showcase + Brunch. They're ready to create "The Home of Your Life™," at Nexton.