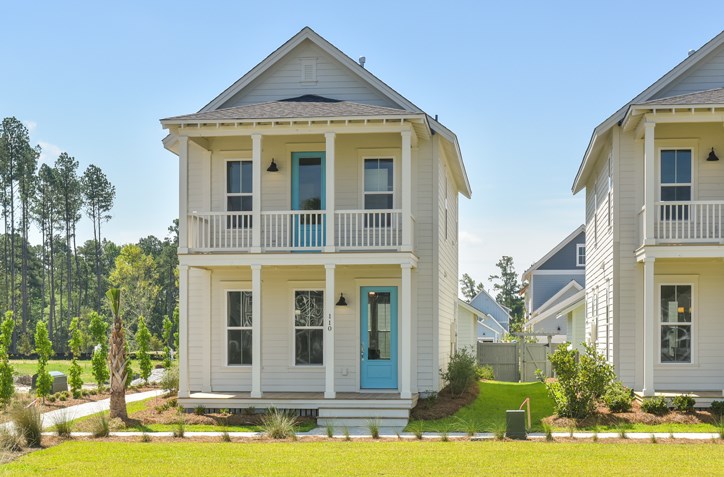 Six home shopping strategies from the experts
Fall in love with the perfect home. Check all the boxes, sign all the paperwork. Move-in and start a brand-new era of life. It sounds idyllic, but maybe a touch too simple. Buying a new home is rarely so cut-and-dry, but it doesn't have to be hard. In fact, equipped with the right knowledge and the right partners, buying a new home can be downright enjoyable! We connected with some of Charleston's top real estate agents to pass their tried-and-true home shopping advice on to you. Read it below, then give them a buzz for even more home buying know-how.
#1 - Research the community
"Do your research."
That's what Kevin Richter, a top 10 Realtor in Charleston, told us. It's also the first thing from Natasha Viswananthan from The Pulse Charleston mentioned. And Christopher Louviere, Southern Real Estate? You guessed it. Research tops his list of home-shopping tips.
The plethora of information available online, particularly for master planned communities, can go a long way in helping a new home buyer narrow down their choices. Research amenities you'll get to enjoy, find details on the HOA, look at the kind of events hosted by the community, and, of course, check out inventory and home plans available.
"There are so many variables when selecting a neighborhood, and you'll be able to narrow down the things that are important to you by reviewing the information available online," Kevin explained. "This will save you time and prevent you from visiting communities that won't work for your lifestyle."
He also suggests going beyond a community's website for the most relevant information. "Take a look at the community's social media presence, and read reviews from folks that live there."
Christopher's biggest piece of advice is to determine beforehand what kind of new build you want: full custom, semi-custom, or a move-in ready home, and to be aware of price difference among those choice. "Customization can quickly drive up the price. Keep in mind the price listed online is the base price, so budget $20k-$60k additional above that number to account for customization in cabinetry, flooring, and the works."
#2 - Your first look
"I always suggest clients drive through a neighborhood around 5 pm as people are arriving home from work. You'll get an opportunity to see who your neighbors would be and how they live and interact," Kevin suggests.
It's a recommendation that Natasha agrees with. "The best way to get a feel for a community is to drive around after work and on the weekends, see what events are going on, and see if you like the 'vibe.'"
Kevin also suggests looking for signs you'll have like-minded people around you. "If you have young ones, look for kids playing in green spaces and riding their bikes," he says. "If you care about fitness opportunities nearby, look for joggers. Love dogs? Check for people walking their dogs and find the closest dog park."
During your first drive through a new community, the amenities you admired online should be abuzz with activity. Check out first-hand just how close parks, schools, and shopping and dining are to your potential new home. You might even take a walk through a centrally-located park, where you can strike up a conversation with those that know the community best – the current residents.
"With a community like Nexton, you're not just investing in a home, you're investing in a neighborhood and a sense of community," Kevin says. "You'll learn more just driving through than with any online research."
#3 – Cruise through the models
The best communities offer plenty of home choices and options, from builders and floorplans to fits and finishes. It means you can get a home perfectly suited for your lifestyle, but it also means more decisions to make.
"You can fall in love with a new house pretty easy – there's a lot to look at! Beautiful backsplashes, a well-appointed bathroom…all of this can distract from your real goals and needs," Christopher explained. "I always have my clients make a list of non-negotiables: things they must have in their new home, like a large front porch or a downstairs primary suite. This allows us to narrow down builders and floorplans the first time through."

Kevin also notes that buyers often don't realize it will cost them zero out of pocket to hire an agent to represent you that's not with the builder, so having one on your side from the beginning can only make your home shopping experience better.
"It's always helpful to have an impartial party – a real estate agent - with you when you're shopping for new construction. The best realtors have a breadth of knowledge and experience that will only make your home buying experience more positive."
# 4 – Research the standout builders
Once you've narrowed it down to builders and floorplans that fit your lifestyle, it's time for more research.
"Each builder is going to follow up differently. Find out how likely are they are to follow up on issues and how responsive they are to requests and questions. Luckily, you can find most of this information online," Kevin suggests.
If possible, he says, meet your builder face-to-face. "The best builders will work to make sure you're entirely happy with your home. If they take pride in their work, they'll be grateful to take the opportunity to talk about it."
#5 – Double back to your favorites
As you get closer to a final decision, things get really exciting – but it can also feel a little daunting.
Natasha reminds buyers not to forget the details when making final decisions. "Make sure you pay attention to what the builder offers after closing - once the excitement of buying wears off, you will want to make sure you have a strong warranty in place to support you as your homes ages."
And Kevin keeps his eye on his buyers' bottom line. "Ask what closing costs/concessions are going to be made by the builder with preferred lenders. Ask what incentives are available with use of preferred lenders."
#6 – Build your dream home
You did it. Out of hundreds of possible homes, dozens of communities, and more builders than you can remember, you've picked a neighborhood and home that you can call your own.
We could give you more advice here from our real estate agent partners, but there's one very important piece of guidance we can't forget to pass along: enjoy the process.
Before you know it, you'll be sippin' sweet tea on your wide front porch, maybe taking a dip in the community pool, and retiring to your perfect-for-you primary suite at the end of a satisfying day. You earned it.