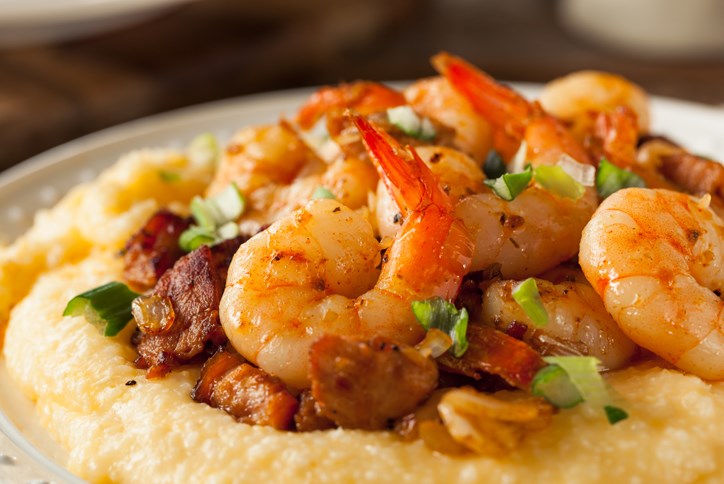 Charleston: home to world-class cuisine
Charleston has built a reputation as an amazing food city, with an incredible density of restaurants that compete with the biggest cities in the world. And you don't have to take our word for it - Food & Wine and Fortune Magazine are among the many publications that have recently praised Charleston's food scene as the best it has ever been. If you like good food – and really, who doesn't? - then Charleston is an amazing place to delight, surprise, and expand your palate. 
So, where do you start? There's no shortage of lists and food guides out there, from Parts Unknown's perfect day in Charleston guide to Eater's list of the 38 best Charleston restaurants. We've tried to narrow down the ever-growing list of culinary destinations and sorted them into our four favorite categories – Brunch (it's a big, big deal here!), Southern Classics, Oysters, and Cocktails. Read on if you're ready to dip your toes into what Charleston has to offer.
On Sundays (and Saturdays and, yes, sometimes Mondays), we brunch
Brunch has been enjoying a nationwide surge in popularity for some time now, and Charleston is on trend. You see, in Charleston, food is important; Instagrammable food is very important, and an Instagrammable brunch tops them all. You can find the classic diner experience at the Early Bird Diner, or try out some artisan biscuits and jam from Callie's Hot Little Biscuit. If you are feeling really adventurous head on down to The Junction Kitchen & Provisions and try their coffee-rubbed bacon and egg sandwich on a doughnut! Whatever your fancy, there are lots of brunch options to explore.
The classics
In recent years there has been an explosion of interest in going back to basics and remastering the classics that made southern food popular in the first place. Whether it is shrimp & grits, pulled pork or any of your southern favorites, Charleston can provide what you are after. If you want to see the classics elevated to high style you can check out Husk, the restaurant Bon Appetit called the best new restaurant in America when it opened in 2011. If what you are after is more traditional Charleston-style you could tuck into a hearty meal at Poogan's Porch, a downtown Charleston legend that is opening a new location soon at Nexton Square.
On the half shell
One of the many perks of living in a beautiful coastal city like Charleston is all of the fresh seafood, and we have an exceptional selection of restaurants to experience oysters on the half shell, stone crab claws, and all the catch-of-the-day you can handle. Visit Bowen's Island for the full oyster roast experience, or if you want to enjoy some fresh oysters without breaking the bank hit up a happy hour for $1 oysters at Prohibition or The Darling Oyster Bar.
Sip, sip, hooray
Speaking of Prohibition, while you are there you can enjoy some of their award-winning cocktails. Custom craft cocktails are all around, and there are a number of places to experience new and interesting drinks including hot spots like The Belmont or The Ordinary. You can pair great food with great drinks that expand your horizons. If beer is more your speed, you can check out Coast Brewing and get your hands on some craft beer from a local, family-owned brewery. It's among a number of micro-breweries flooding Charleston with excellent brews in a family-friendly atmosphere.
No list will ever be complete in a city as diverse and interesting as Charleston in its offerings, but one of the great joys of living here is the continued exploration of all of the amazing options that are constantly evolving. If you want to explore more of what Charleston has to offer, check out this guide to food in the city from Eater. And if you are ready to make Charleston your home, contact us or drop by to visit us at Nexton and learn more about our new homes community. With Nexton Square just minutes from home, getting your Lowcountry cuisine fix has never been easier.