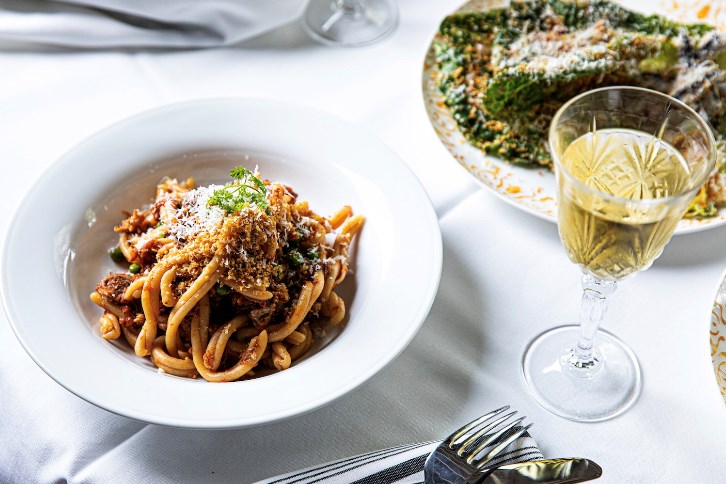 Summerville Rising: New Upscale Eateries Around Nexton
With an array of ever-so-popular local restaurants to choose from, satisfying your taste buds and virtually any craving is no trouble at Nexton. Taking a short walk or drive to Nexton Square will leave you surrounded by endless options: sushi, biscuits, tacos, burgers, pizza, donuts, wings, and more! You name it, you'll find it in the heart of Nexton. 
Thankfully, nearly all of Nexton Square's eateries and restaurants offer a top-notch dining experience – from their impressively diverse menus to their high quality ingredients. Still, the mood for something new occasionally strikes, and traveling beyond the bounds of Nexton is needed (for now). 
Drive 15 minutes down the road and find yourself in the historic heart of Summerville, surrounded by some of the area's most memorable dining experiences. 
For innovative cocktails and southern faves: Azalea
The Azalea Bar & Garden, located in Downtown Summerville, ​is inspired by the signature southern style of Azalea Magazine. Step inside and you'll come upon a charming atmosphere boasting an expansive craft cocktail list, specialty curated wines, a selection of local craft beers, and a unique urban garden. This speakeasy-style high-class spot makes for the perfect date night or post-work cocktail location. After drinks, indulge in their menu of Southern favorites like Jalapeno Cornbread & Honey, or hey, have another. 
Located at 219 South Cedar Street 
Tuesday - Saturday 4:00 pm - 10:00 pm
New and truly outstanding Italian: Laura
Longing to be at the family dinner table in Italy? Chef Nico Romo, voted Best Chef in City Paper, can help with that. Patrons of this newly opened restaurant have described it as "one of those places that just feels like home." Romo, inspired by the culture & cuisine of his grandmother, created Laura to carry on her tradition of cooking time-honored Italian dishes and bringing people together through them. 
The atmosphere, conscientious service, and authentic experience you'll find here will surely not disappoint, and neither will their stellar dishes. At this upscale Italian eatery, sauces are made lovingly from scratch using classic techniques, and all pasta is made in-house. Chef Romo's rustic cuisine pays homage to the simple yet incredible flavors found in traditional Italian family recipes from his childhood. His coursed menu features plates straight from his grandmother's cookbook such as Casarecce Laura Bolognese and Lasagna a la Laura. Pizzas are prepared in a custom wood-fired oven, sides are served family-style, and memories are bound to be made. 
Located at 101 North Main Street
Every Day 4:00 pm - 10:00 pm
An old favorite: Oscar's
There's a reason why Oscar's is an old favorite in Summerville, and it's not just because of their mouthwatering dishes! Oscar's has been entertaining the Lowcountry and serving up Summerville with traditional American favorites and creative cuisine for over thirty-five years. Locals have racked up a list of favorites from this savory spot, including Charleston-style Shrimp and Grits and their signature Seafood Burrito; stuffed with shrimp, scallops, crab, mushroom, onion, jack cheese, and a creamy lobster sauce!
At Oscar's, there's always something for everyone to look forward to. 
This Summerville staple offers a wide variety of dishes and dining experiences to satisfy any palate. The upscale main dining room boasts cozy decor and makes the perfect place for enjoying a traditional southern dish, freshly caught seafood, perfectly grilled steak, or an amazing dessert. Oscar's classic ambiance also creates an exemplary setting for an intimate date night for two. Head to the lounge to get together with friends and compliment your meal with the full bar or an array of select wines. If you're searching for a classy atmosphere, excellent service, and a delectable bite - Oscar's will not disappoint. 
Located at 207 West 5th North Street
Monday - Thursday 11:00 am - 9:00 pm
Friday - Saturday 11:00 am - 10:00 pm
Stay in Nexton and dine well: Halls Chophouse
Every discussion of upscale dining has to include Halls Chophouse! The Hall family opened the doors of the first Halls Chophouse Charleston in 2009 and it has now become one of the most top-rated and award-winning steak houses in the country. And now, there's a Halls right here in Nexton Square! Glance at their menu and you will find some of the best custom-cut hand-selected signature steaks, savory sides, and the freshest seafood. The atmosphere is energetic and friendly, with live music seven nights a week and an outdoor roof patio. The team at Halls is dedicated to exceptional hospitality, making any trip to this fine-dining destination feel like a special occasion.
Located at 300 Nexton Square Dr 
Monday - Thursday 11:00 am - 10:00 pm
Friday - Saturday 11:00 am - 11:00 pm
Sunday 10:00 am - 10:00 pm