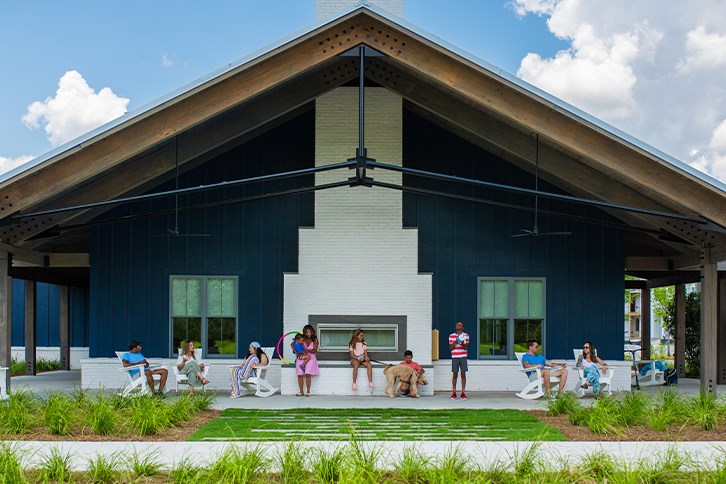 Investing your dollars in Nexton: it just makes sense
Cookie cutter. Risky. Urban sprawl. We've heard it all before. In fact, those words may have been a big part of Nexton's earliest planning meetings. You see, over in our little corner of Berkeley County, we were watching the world. Talking to neighbors. Paying attention. Because if you're going to set a new standard for a thing, you have to know where to start.
Our goal was, and still is, to smash the preconceived notions about master planned communities. To make phrases like cookie-cutter feel down right out of place in Nexton. To bring all the goodness of urban living into our suburban community (so you get the walkability and conveniences without the concrete wasteland). Pull in the best elements of Lowcountry living and mix them with cool, new ways to stay fit, healthy, and happy. 
Across Nexton's 5,000 acres of vibrant community, you'll find thoughtful architecture, sustainable land planning, and forward-thinking, innovative design. Part of it comes from the best practices great land planners have laid out for master planned communities. Part of it is just that Nexton-y way we like to do things. 
Is the whole everything's-here, walk-to-work, bike-to-lunch thing new to you? We understand there may be some reservations. Some hesitations. So let's dive in and take a closer look at the many perks of living or investing in a master-planned community. And if you're still having doubts, rest assured we've got the accolades to back it all up: Nexton was recognized by the National Association of Home Builders as the Top Master-Planned Community in the United States.
What's the opposite of cookie-cutter?
Whatever it is, that's what you'll find at Nexton. It's a common misconception that your house has to look the same as everybody else's in every master-planned community. And sure, you'll find communities like that spread around the country. But here in Nexton, your home isn't allowed to look like your neighbors. Or their neighbors. Our architectural guidelines ensure streetscapes are dynamic and varied. A portfolio of nine homebuilders, each with a variety of homes, plans, exteriors, and architectural details are combined with a curated listed of the best paint colors and exterior treatments to ensure diversity. So your morning walks are filled with fresh eye-candy around every corner. 
A Convenient Location 
The other misconception we aim to bust: master-planned communities are too far away from shopping and services.
Centered at the key crossroads of I-26 and 17A in Berkeley County, Nexton's location can't be beat. Eastward, you'll find Charleston, Travel + Leisure's #1 city in the USA for 10 years running, with gorgeous beaches, award-winning schools, and a thriving business community. Westerly, the Volvo Cars plant and all the components manufacturers that came along with it. A smidge farther and you're at I-95. It's an energetic path of growth that gets more exciting each and every year, as more companies realize the attraction of the Lowcountry is multi-factored: great living makes a great place to grow a business. 
Just a short drive to the heart of Summerville and you'll find gorgeous gardens, historic buildings, amazing dining, endless shopping, farmer's markets, and festivals galore!
And if it all still feels too far away for your day-to-day needs, forget your car entirely. A big part of Nexton's appeal comes from the "mixed" part of mixed-used community. We're bringing daily conveniences and services directly into the community, with five different commercial districts that will cover millions of square feet at full build-out: 2 million+ sf for retail and restaurant; 815,000 sf for medical; and 1.7 million sf for offices. The first to arise is Nexton Square, where homeowners and the community at large are getting their first taste of how Nexton does retail. And yes, it's very Nexton-y, complete with an event space and award-winning restaurants.
The sights you want to see, the experiences you wish to have, and the necessities you need can all be found just moments away from your doorstep at Nexton. 
A Smart Investment 
What is in an address? A similar home located in any other community does not, as they say, smell as sweet. Home values are affected by many different factors, but within a master-planned community, there's an organization looking out for your investment. When it comes to neighborhoods and amenities staying pristine as well as stabilizing property values, our POA does some heavy lifting.
Nexton has established a smart, sustainable approach to maintaining and enhancing the community. So as Nexton matures, not only will it be beautifully maintained, it will add parks, gardens, outdoor art, community events and other life - enriching features. The dollars invested in the POA at Nexton just make sense. 
As an added bonus, Nexton's energy-efficient homes will keep energy costs low, dollars in your pocket, and the planet happy.
A Sensible Choice
Admittedly, Nexton isn't your typical master-planned community. In fact, we go out of our way to be a little atypical. It's why our well-designed, sustainable, mixed-use community has been recognized internationally as a model for master plans. With hand-picked homebuilders, luxury apartments, commercial and office space, and destination dining and shopping, there's no end to the possibilities. Looking for a community built into a neighborhood? A lifestyle tailored to how you want to live? The flexibility to design your home? Amenities and services at your fingertips? A sound housing investment? If so, you can feel confident choosing Nexton as your hub to live, work, and play.
See the anything-but-cookie-cutter homes available today.