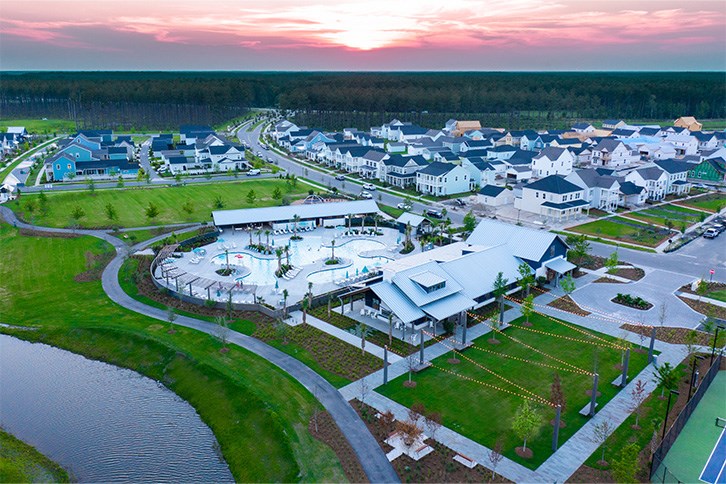 Energy Efficiency - It's the Nexton Way
Efficient living is one of Nexton's guiding principles, and we take our cornerstones seriously. 
Nexton recently received The National Association of Home Builders Best in American Living GOLD Award for Green Community and was named Green Community of the Year, and it's not hard to see why. 
Community Sustainability
Through every phase of Nexton's development, sustainability and energy efficiency have been at the forefront of our design. The community's layout emphasizes the importance of integration with the local environment, with more than 30% of the community's 5,000 acres set aside for woodlands, open spaces, wetlands, and other natural ecosystems. This design weaves these natural assets into our neighborhoods, creating a meaningful connection with the outdoors. It also allows for traffic to be taken off the roads, where LED street lights are capped to reduce light pollution, and gives residents an opportunity to bike or walk to work, daycare, schools, and nightlife. This master plan has been recognized as a "game-changer" in the Charleston region for its thoughtful planning and design.
Eco-friendly Homes 
Inside, homeowners benefit from reduced energy footprints, too. The homes in our neighborhoods feature the latest in energy-efficient heating and cooling, so owners can save money every month while helping preserve our natural resources for future generations. GigaFi technology allows homeowners to monitor and reduce energy and water consumption as well as smoothly integrate smart home appliances for ultimate control of energy use. State-of-the-art windows, energy-efficient insulation, innovative temperature control, and tankless water technology that essentially eliminates all the energy wasted when water cools while sitting in a storage tank are just some of the many features making Nexton's homes greener. 
Each home in the community meets strict green building standards in five different categories: energy efficiency, healthy indoor air quality, resource efficiency, environmental responsibility, and water conservation. To ensure these standards are met, homebuilders are required to certify homes under the Eco-Select program, which governs the design, features, and building process. Southern Energy Management, the Southeast's solar power and building performance expert, recently looked at our community and home efficiency savings and confirmed our commitment to eco-friendly living is paying off. The annual energy savings per home is 1.3 thousand kilowatt-hours of electricity, that's equivalent to the carbon from 187 gallons of gasoline. Already, 8.2 million pounds of carbon emissions have been avoided in the community. 
Leaders in Greener Living 
One Nexton builder, Homes By Dickerson, has the most single-family homes certified to the National Green Building Standard in the country. NGBS Green is an independent, third-party certification that affirms each home's compliance with the ICC/ASHRAE-700 National Green Building Standard, the nation's leading green building rating system. Southern Energy Management explained that building to the NGBS standard requires more than checking a box for energy standards, it means that homes are designed and constructed to meet a minimum number of criteria in water efficiency, home site design, sustainable materials, indoor air quality, and homeowner education to achieve certification. 
Michelle Foster, Vice President of Innovation Services at NGBS, stated "Lots of builders say they care about the environment and that their home's high-performing. Homes By Dickerson doesn't have to say it – they let their NGBS Green Certified homes speak for them. In short, an NGBS Green Certified home is a better place to call home. Having nearly 1,000 NGBS Green certifications to date speaks volumes about the commitment Homes By Dickerson has to building high-performing, quality, sustainable homes." With an average HERS score of 56, the Homes by Dickerson team has saved their home buyers a cumulative $1.2 million in energy savings over the last 10 years!
All of our builders here at Nexton offer energy-efficient features. For example...
David Weekley Homes is a leader in suitable and energy-efficient construction, winning the ENERGY STAR Certified Homes Market Leader Award.

Saussy Burbank homes seamlessly blend energy efficiency, low maintenance living, and southern charm.

Ashton Woods Homes uses special framing techniques and improved insulation systems, fresh air ventilation, high SEER-rated equipment, and countless other design features; an energy-efficient home also means a more healthy and comfortable one. 
Everywhere you look in our community you'll find we're committed to leading the way towards a more eco-friendly lifestyle. Intentionally built to allow residents to bike or walk to their heart's content and with sustainability in mind every step of the way, Nexton is a leader in greener living. It's our mission to build a space that works with nature, not against it, and to create a healthier future for generations to come. 
Do more with less, it's the Nexton way.