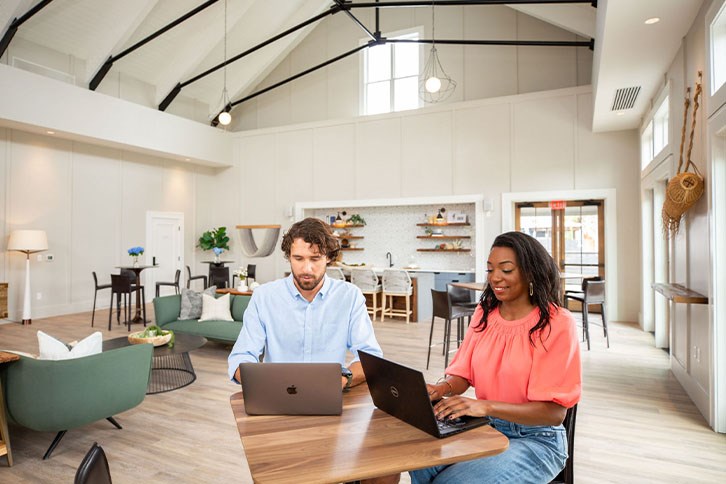 Never Not Innovating: Home Telecom Bringing Speeds up to 2 gbps to Nexton Homes
Over the years, we've learned that being first comes with a lot of perks. As the old saying goes, "the early bird gets access to the fastest, most reliable internet in the region." Or something like that. 
All joking aside, it's true - being the first gigabit community in South Carolina has been the catalyst, at least in part, for a number of things that make Nexton so, well, Nexton-y. Like the ever-increasing number of workplaces, from medical services and co-working spaces to IT-providers and architects, popping up across our campus. The restaurants and retailers benefiting from quick, seamless internet service. And, of course, the hundreds of tech-hungry homeowners enjoying all the teleworking, movie-watching, and Grandma-Facetiming they can fit into a day. 
It's all made possible through our partnership with Home Telecom, a home-grown company with innovation top-of-mind. They're keeping Nexton ahead of the technology curve, future-proofing our homes and businesses. So, what's next?

More speed, of course. 
In August, Nexton residences will be able to experience affordable, hyperfast 2-gigabit per second internet speeds. With the average home having 20 or more devices, many running in tandem, multi-gigabit internet is a game changer for smart, connected homes. What currently takes 14 seconds to download with 1 Gbps can now be done in a flash of 1 second! Get ready for stronger, faster, and a more consistent connection for your streaming services, virtual assistants, virtual reality headsets, online gaming, and working from home - all with no lag and ultrafast Wi-Fi.
Meanwhile, businesses will have the option to upgrade to blinding fast speeds reaching up to 8-gigabits per second. A major level-up for businesses transferring hefty files, teleconferencing around the world, and providing exceptional digital service to their customers near and far.
As the cherry on top of a deliciously fast technology sundae, Home Telecom will also be expanding multi-gig service to public Wi-Fi hotspots in Nexton like Brown Family Park, Nexton Square, and Midtown Club. 
If you're a current Home Telecom customer at Nexton, look for information about upgrading in your inbox soon. If not, what are you waiting for? Find your uber-connected, super fast new home in Nexton today.