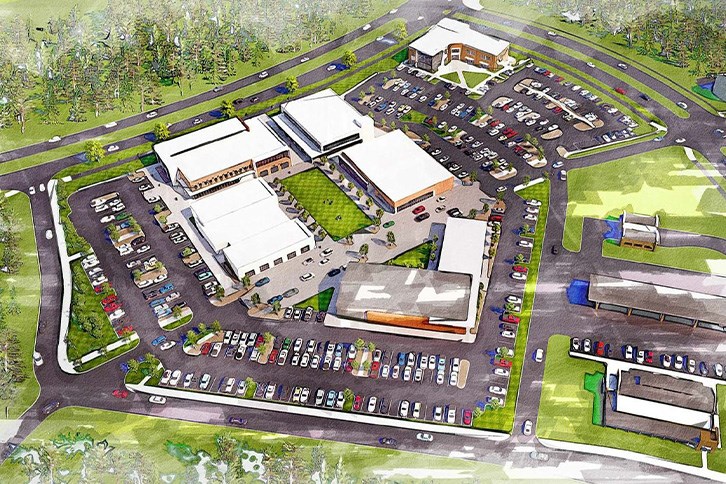 Construction underway at The Hub, Nexton's newest place for business
Calling all entrepreneurs, creators, innovators, and owners of businesses big and small: leasing and construction are underway at The Hub at Nexton. Located at the corner of Brighton Park Boulevard and Nexton Parkway - and literally 1 minute from I-26 - The Hub offers retail, office, restaurant, and medical space totaling 88,000 across 8 acres.
A modern workplace
Yes, you'll find all the typical accouterments, but also that bit of extra that always comes with working (or living) at Nexton. 
At the Hub, five one- and two-story architecturally unique buildings will face a central courtyard that will serve as an every day place to take in fresh air and sunshine or even pop up your laptop for some work alfresco. But the space is also designed to host events and classes. Picture outdoor work events, lunchtime yoga classes, and after-hours frosé with your co-workers. (More details on the frosé to come!)
Of course, the work day will be powered by GigaFi, Nexton's seamless, superfast gigabit internet speeds brought to us by Home Telecom. All your cloud-based computing, video conferencing, and megafile uploading can be supercharged, if you need it. Gigafi comes in speeds up to 10 gigabits per second with redundant loops for stability and reliability. 
And all that working in the breezy courtyard you'll be doing? Powered by mesh-enhanced Wifi. Goodbye fuzzy Zoom calls. Hello, crystal-clear Beijing. 
Live here, work here
The Hub is part of Nexton's mission to keep people working where they live, alleviating regional traffic issues on I-26 and making alternative transportation to work - like riding a bike or even walking - possible for people living nearby.
It all comes together in a community plan that mixes together offices, homes, restaurants, shops, parks, technology, trails and nature in a way that creates not just a place for people and business but a place that inspires people and empowers business.
Sound good? We don't want to put on the pressure, but you'd better hurry. Two buildings at The Hub are already under contract. Reach out today to secure your space!