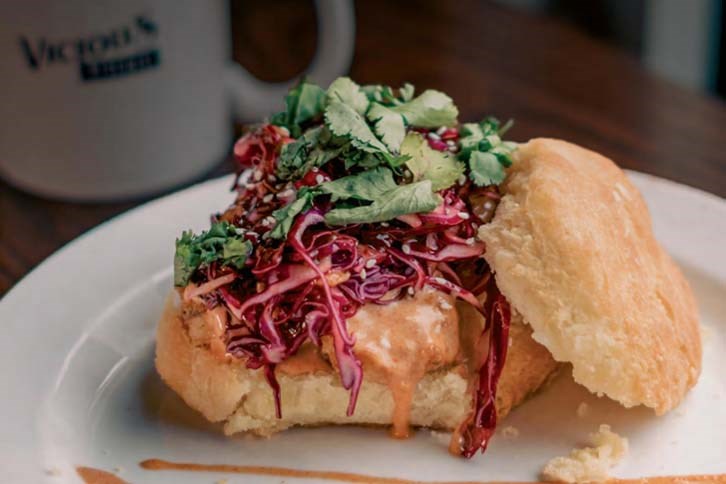 Whatever the question, the answer is biscuits: Vicious Biscuits
It's 7:30 on a Sunday morning, and the line at Vicious Biscuit stretches 30 people deep.
Sure, the doors won't open until 8 — but hey, we're talking warm, buttery bliss. Piled high with your tummy's desire, from classic maple sausage gravy to hand-battered fried shrimp with Thai-chili slaw (aka "The Sea Biscuit"). The people will not be denied.
Clearly, Nexton loves Vicious Biscuit, which arrived just a year ago after wild success at its Mt. Pleasant location. Any given day will find the place buzzing with families, couples on dates, co-workers, tourists and neighborhood walkers and cyclists fresh off the Nexton trails. Oh, and dogs, too, always welcomed with a water bowl on the sunny patio.
In case you're wondering what makes these biscuits exceptional here in the Lowcountry — the land of biscuit plenty — well, you'll just have to keep wondering. "We have a couple of secret ingredients that make our biscuits moist and hold their integrity, even though they're so big," explains Mike Ball, Vicious Biscuit Director of Operations. Their hefty size makes it fun to share different flavors. And there are so very, very many flavors.
Mike describes The Vicious as their "gateway biscuit." This cheddar and jalapeño biscuit comes laden with fried chicken breast, gravy, candied jalapeños and maple syrup — an irresistible co-dependency of spicy and sweet. For "a true taste of the South in your mouth," says Mike, try the Fat Boy, a similar biscuit-chicken combo, but with housemade pimiento cheese and spicy honey drizzle. If (heaven forbid) biscuits aren't your glass of sweet tea, try a bowl of shrimp and grits, a salad, or other tasty alternatives. No meal at Vicious Biscuit is complete, though, without a legendary Bloody Mary. Or a mimosa, made with fresh-pressed orange juice — a typical, high-quality ingredient. Just like the locally sourced King Bean coffee, Storey Farms eggs and Adluh grits.
Located in Nexton Square, Vicious Biscuit is just one of the community's smorgasbord of locally-rooted, foodie-driven restaurants. A Summerville resident himself, Mike believes Nexton's robust choices added much-needed culinary variety.
And they speak volumes about the area's potential. "It's really a new dawn for Summerville," he says. "We're becoming more tech-driven, with a lot of new business operators. It's been fun to watch Nexton grow, and I see an even more prosperous future ahead."
In other words, that Sunday morning crowd isn't going anywhere. So here's our best advice to you: Come hungry and come early.