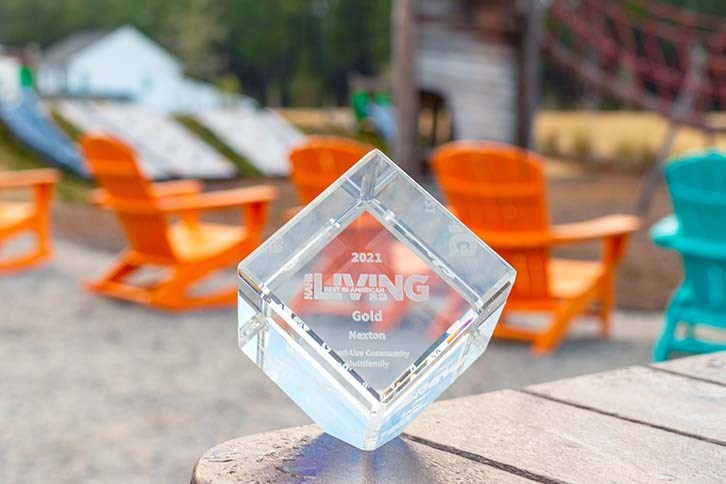 Nexton: Officially the Best Mixed-Use Community in the USA
Great news: Nexton just won the Best in American Living Award for Best Mixed-Use Community in the nation.
If you're not familiar with the term "mixed-use" to describe a community, it's a simple concept that's oh-so-important - and it's what Nexton is all about. Here, you'll find a staggering mix of, well, uses! 2,000+ homes and townhomes, five apartment buildings, a soon-to-debut built-for-rent single-family community, class-A office spaces, garden offices, medical offices, a slew of convenient services, great schools, and destination retail district complete with world-class dining. Plus, there are millions of sf of commercial and thousands of homes to follow. 
This is all in addition to the greener side of Nexton. Approximately 30% of our 5,000 acres are dedicated to open space, wooded preserves, wetlands as well as parks and trails. So far, you can count nearly 50 different parks scattered around 4 villages and commercial areas, many connected by winding trails and pathways. 
Our master plan has been recognized as a game-changer in the Charleston region for its thoughtful plan and innovative design that appeals to people from all walks of life - first-time buyers, move-ups, retirees, renters and an impressive list of businesses. 
Life at Nexton is a varied one, thanks to close proximity to the Best City in the World (says Travel + Leisure), gorgeous beaches and a thriving business region. But if you so choose, you can get all your day-to-day tasks and errands - plus a bit of fun - complete without even leaving the Nexton campus. That means less cars on the roads and more time for doing the things that matter most. 
If you're one of the thousands of people who live and work here every day, thank you for bringing the community to life. 
And thank you to the National Association of Home Builders for recognizing Nexton for its sense of place, walkable ways, and more.