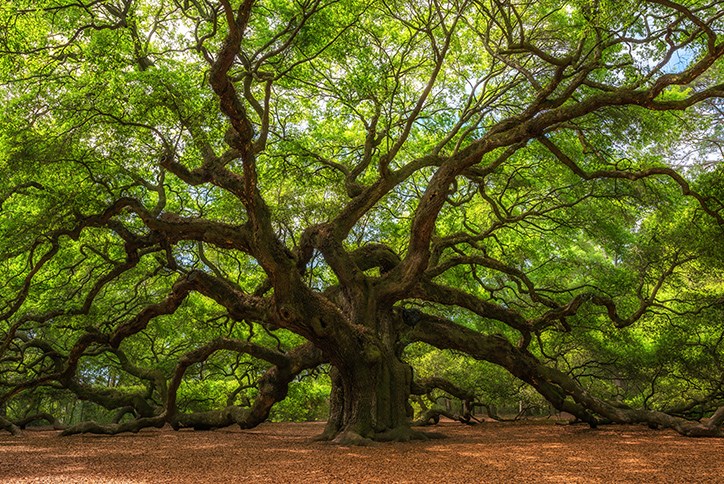 9 Free Things to Do In the Lowcountry
There's nothing like a trip to the Lowcountry to enjoy and explore all that these old, charming towns have to offer. From exquisite dining options to ghost tours and carriage rides to plantations, there's absolutely no shortage of things to do. But for those that live where others only vacation, it's all about finding ways to enjoy our slice of southern heaven, without always breaking the bank. Below, 9 free things to see, visit, experience and enjoy in the Lowcountry to get you started.
Beach it up
Let's get the awesomely obvious out of the way, shall we? With 5 gorgeous beaches- Isle of Palms, Sullivan's Island, Folly, Kiawah and Edisto- along the Charleston coast, sun and sand lovers have more than enough options to choose from. Find ample parking along the side roads near beach access points or visit one of the state parks at Folly or Kiawah with your annual Charleston County Parks and Recreation pass.
Stand in awe of the Angel Oak
If you've never stood at the base of this majestic tree then you are certainly in for an awe-inspiring experience. Estimated to be anywhere from 400-500 years old and standing 66.5 feet tall, the Angel Oak is a treasure of the Lowcountry that people come from near and far to see.
Walk the Ravenel Bridge
At all times of day you can find locals and tourists alike walking, running, and biking across the Ravenel Bridge, taking in the views and stopping for a few selfies along the way. The 575 foot tall bridge is roughly 180 feet above water and a total of 13,200 feet in length, providing excellent viewpoints of both downtown Charleston and old town Mount Pleasant. 
Explore the parks
If your family loves to play, picnic, and walk in the beautiful outdoors, then put to a park or two on your to-do list for 2019. From gorgeous Hampton Park nearby the Citadel to the famous pineapple fountain at Charleston Waterfront Park downtown, these destinations are fun for the whole family. Closer to Nexton, kids can enjoy romping around at Gahagan Park or taking in a little bit of history at the Colonial Dorchester State Historic Site alongside the Ashley River.
Shop the Market
Depending on the season, you'll have your pick of farmers markets in almost every town throughout the coastal Lowcountry. Catch the popular downtown farmers market at Marion Square that kicks off in April and runs through the end of November, or check out a smaller- yet equally awesome- market in Folly, West Ashley, Summerville, or John's Island.

Another market you can't skip is the historic Charleston City Market that runs 9:30AM to 5PM every day. There you'll mingle with makers and their beautiful creations, such as sweetgrass baskets, paintings, jewelry and more.
See Rainbow Row and the Battery
The perfect spot for an impromptu family photo, both Rainbow Row and The Battery are great backdrops on a beautiful, sunny day. With a little bit of patience and luck, you can get the perfect angle of Rainbow Row without cars passing by in front of your colorful subjects. The Battery offers a calm, waterfront walk with people taking in the cannons, nearby mansions and towering oaks. 
Factory tour of Charleston Tea Plantation
Enjoy a complimentary and educational tour at the Charleston Tea Plantation on Wadmalaw Island. Encompassing 127 acres, your family can learn about the interesting history and production of tea every 15 minutes on the quarter hour. You'll be able to sample the goods, too. 
Francis Marion National Forest
Calling all nature lovers out to Francis Marion National Forest for a day of hiking, camping and birdwatching! Located just north of Charleston Proper, the forest boasts many trails that allow visitors take in the sights, sounds and scents. Adventure as far or as close as you'd like to explore.
Visit Fort Moultrie
If you're spending the day in Sullivan's Island (the former hangout of Edgar Allan Poe) then stop by Fort Moultrie. There, the first shots of the Civil War fired. The lighthouse nearby is one of the most modern to date and was previously hailed as the second brightest lighthouse in the western hemisphere before being dimmed due to complaints from locals. Nevertheless, it can still be seen 27 miles out to sea on a beautiful, clear evening.
If you have Charleston on your must-visit list, there's a little something for every type of tourist. Charmed and want to make this place home? Visit Nexton, where new homes start in the $200s.