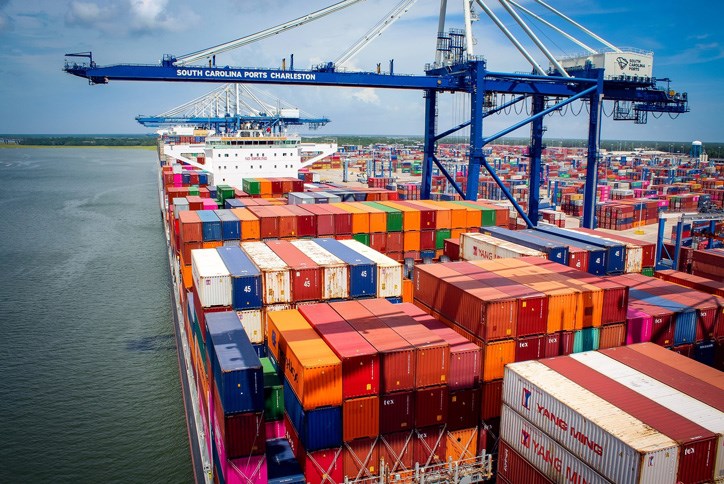 Accessible and Connected: how the Port boosts Charleston
Toes in the sand. A cool breeze blowing off the Atlantic. Freshly shucked oysters or shrimp at Shem Creek. Life near the ocean is oh-so-wonderful in Charleston. A lot is said about the lifestyle our coastal location affords, and for good reason.
Next time you're reveling in the rays at one of our many beaches, squint at the edge of the horizon into the Atlantic and you might catch a peak at another benefit of our popular location. The Port of Charleston is at the center of our growing economy carrying in excess of $150 million in cargo annually. 
Charleston's a hub for global business
In July, the Ports Authority finished its fiscal year with an official count of 1.36 million cargo containers moved through Port of Charleston terminals, exceeding initial expectations. In fact, the five port terminals across Charleston are collectively the most productive port in the nation. It's also the deepest port in the Southeast, and the only port in the region that can capable of handling post-Panamax vessels up to 14,000 TEUs. Not familiar with TEUs? Trust us. That's really big.
The Port of Charleston serves more than 150 countries worldwide and 40 steamship lines, and it continues to grow. Currently, Leatherman Terminal, a new three-berth, 280-acre container terminal is under construction in North Charleston. 
The economic influence of the Port can't be overstated. A 2015 study by University of South Carolina indicates a $53 billion impact throughout the state. They also attribute more than 180,000 jobs, $10.2 billion in labor income, and $912 million in tax revenue to Port activities.
Volvo Cars cites proximity to a major global port among the chief reasons Berkeley County scored the carmaker's 2.3 million square foot facility in 2015. Of course, we're seeing now how Volvo's impact has snowballed, with dozens of additional parts manufacturers also relocating to the Lowcountry, where port proximity is just as beneficial as being close to Volvo Cars.
Mercedes Benz Sprinter Vans and BMW also use the Port to ship thousands of vehicles to global distribution centers each month.
How the Port of Charleston impacts Lowcountry residents
Fuji Film. Husqvarna. Michelin. Shimano. What do all these companies have in common? They rely on the Port of Charleston to get their products around the world. Even cruise ships enjoy the deep-water access, bringing thousands of tourists to Charleston.
Chances are, you know someone whose job is directly connect to The Port - research indicates 1 in 11 jobs statewide are linked to The Port of Charleston and that port-supported jobs pay nearly 40 percent higher than the state's average annual wage. And a whopping 10% of total annual gross state product is attributed to Port activity.
SC Ports also give directly to the community. In 2018 over $100,000 was donated to 54 charitable organizations through an annual Community Giving Program. Recipients include Charleston Waterkeeper, Lowcountry Maritime Society, SC Future Makers, and the USS Yorktown Foundation.
Our other 'Port: Charleston International Airport
While our cargo port is a true economic engine, we can't forget about Charleston International Airport's role in bringing business (and pleasure) to our area. An expansion completed in 2019 brings new gates, entertainment, and safety to travelers embarking on more than 100 daily flights. The busiest airport in the state, Charleston International Airport provides non-stop service to 25 major metropolitan cities, and recently, has added London to its list of direct flights.
And since we're on the topic of airplanes, it's hard not to mention that the 787 and 787-10 are made exclusively right here in Charleston by the 7,500+ hardworking men and women of Boeing.
Nexton: an imPORTant hub
Bolstered by a location well-served by land and sea, South Carolina's commitment to sustaining a thriving economy – and boosting manufacturing in the Lowcountry - has paid off. High paying jobs and an unparalleled quality of life are helping to add 28 people per day to our area. And all these newbies need places to live, shop, and eat. That's where we come in.
Nexton, located in the direct path of Charleston's most exciting growth, offers the charm of small-town Summerville and the convenience of being close to, well, everything. Incredible shopping, dining, schools, and employers are right here in the community. Historic Charleston's just a 30-minute drive. The Port of Charleston attracts businesses based in countries around the world, so we benefit from new, exciting cultural influences each and every day. And a pint in London's most charming pub? Well, we wouldn't say it's close, but that direct flight to Heathrow makes getting to your favorite European city a lot more convenient!
Charleston – and Nexton – truly has it all. Join us.