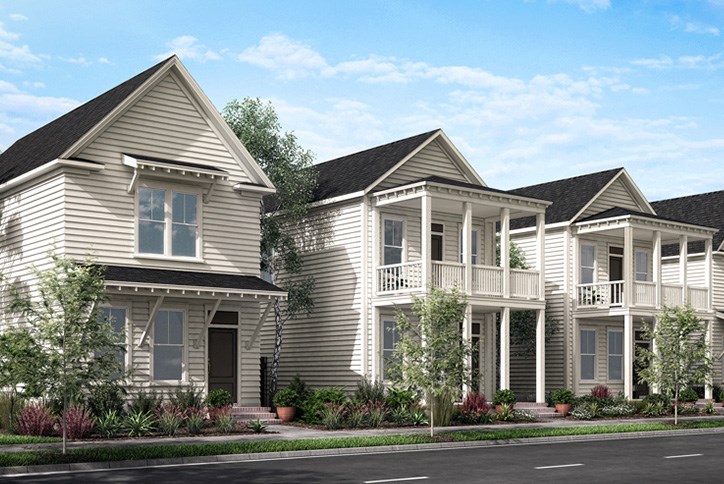 Oh-so-fresh: Introducing the Cottages at Nexton Collection
Charming, cozy, and coastal. Convenient, clean-lined, and economical. We're debuting the Cottages at Nexton collection, the freshest way to live at Nexton. Featuring Saussy Burbank's signature craftsmanship, attention to detail, and classic-modern style.
These are single-family homes built for a walkable, community-forward atmosphere. Homes that live large, with flexible floor plans for the way you live, but without the added upkeep or environmental impact. And they're priced just right. Get a sneak peek into the newest home collection going live later this month. Then don't wait to get your name on the list -- you'll want to be among the first to reserve your Cottage at Nexton.
Big style, low-maintenance
"The Cottages at Nexton are a chic blend of coastal Lowcountry style and clean, modern lines," Al McNeill, senior Vice President with Saussy Burbank, explains. "And every square foot is considered. What results is a home that values quality over quantity, feels comfortable and cozy, and allows the home to live large without more than you need."
Lower utility costs and a smaller carbon footprint naturally result. So you can feel good about the impact you're making on the environment, as well as how you're maximizing your lifestyle.
You'll also love how the Cottages at Nexton feature floor plans that are flexible in the best possible ways. It allows you to style your space for how you live. Formal dining room crucial for throwing dinner parties? Or do you prefer a big open living space for Sunday game days? Perhaps your ideal space is a little bit of both. You choose.
"The Cottage series is a smart way to launch into home ownership," Al tells us. "But these are also designs created to appeal to an empty nester or active adult. Anyone who enjoys an efficient environment and energetic lifestyle should visit these homes. You get the benefits of new construction and enjoy the privacy of a single-family home, with the freedom to spend your time and dollars in other ways."
A collection exclusively for Nexton
Call us bold, but we like to think Nexton poses a little challenge to the average idea of home. That's because life at Nexton happens beyond the four walls. Ample greenspaces, superb walkability (or golf-cart-ability, if that's more your speed), and community design that inspires connection - all work together to create a place that lives more healthfully, more joyfully, and more authentically.
It's a harmonious environment for the Cottage Collection. "Neighborliness thrives at Nexton," Al says. "And these Cottage homes are designed for this kind of community." When you buy a home at Nexton, you're buying into the community. Into a vision of a forward-looking, Lowcountry-feeling neighborhood. Where neighbors are friends.  And community flourishes. From bunco parties to tiny tots playgroup to pick-up games of football on the Great Lawn.
Brought to life by an exceptional team
Craftsmanship is more than a buzz-word for Saussy Burbank - it's a philosophy. The exceptionally gifted group of architects, designers, and builders that have designed the Cottages at Nexton have been honored with Guild Quality's Guildmaster Award, the highest honor for customer satisfaction, every year since 2011. And it's not some unnamed committee patting industry friends on the back – it's Saussy Burbank's customers. Guildmaster Awards are presented to home builders that have achieved exemplary customer service ratings and have a customer recommendation rate higher than 90%.
They attribute their success to commitment to a guided principle: that each home should be unique and offer the same quality design and craftsmanship, regardless of size or price.
"Good design enriches the lives of others," says Al. "It's essential to creating memorable places." 
Pricing and available homesites will be released in late September. Sign up to be the FIRST to get the information. You don't want to miss this.