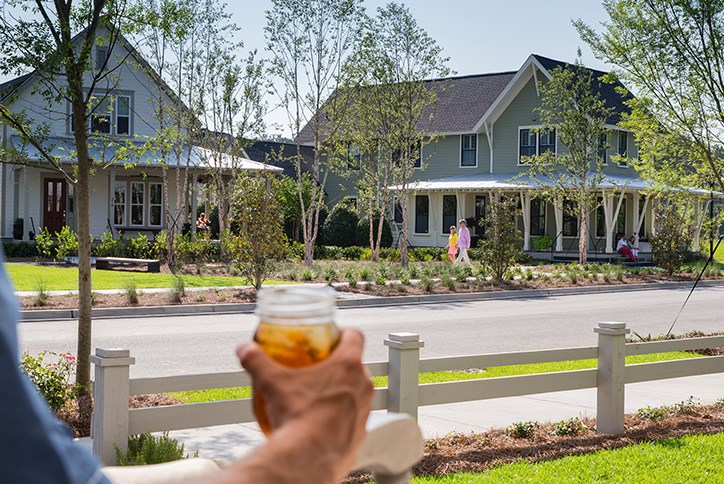 Won't You Be My Neighbor? How Nexton sparks new friendships
Picture it: As the sun begins to set for the night, parents are gathered around a hot grill, laughing, clinking their chilled glasses and watching as a handful of little ones chase fireflies around backyards and parks.
For some, this is only a dream. Stuck in the ever-rotating awkwardness of meeting new neighbors and settling into a rental, only to move once more. But for homeowners at Nexton, this is a common Friday night experience, as interactions with neighbors move past mailbox pleasantries and into fully fledged bonds that last a lifetime.
According to a Zillow Group Consumer Housing Trends Report from earlier this year, 27% of people say they are, in fact, close friends with their neighbors. And let's be honest, doesn't that sound nicer than rushing from car to door to avoid the boy next door? Here are a few reasons why buying a home in a neighborhood like Nexton could help you find your new lifelong friends - and maybe a new BFF for the kids.
In it for the long haul
Being a friendly neighbor isn't hard, but for those that aren't sure of their commitment to the area, it may feel like a waste of energy. That being said, for those that own- and plan to stick around for the long haul- there's an invested interest in becoming buddies with your streetmates.
Wine dates on front porches and built-in playmates for your kids are just the beginning. When you're close friends with your neighbors, it gives new meaning to the word community. You have your neighbor's back, and they have yours. They don't hesitate to help you track down Fido when he makes a break out of the back yard. They gladly gather your mail and water your plants when you're out of town. They might even have a key to your house, just in case. 
Kids and Pups Make Everything Better
Let's face it: there's a reason we only want to see pictures of babies and puppies during our daily social scroll- and it's because they make everything better. The same adorable ice breakers help adults to open up to one another when passing by in the neighborhood, stirring conversation and ultimately getting to know one another- and their sweet 2 or 4 footed "children" that much better.
Adulting is hard
Sure, for some people nothing sounds better than shutting the door after a long day at work. For others, however, the pressure and stressors of life are only impacted by the lack of community.  The idea of winding down the night on the porch or maybe sweating out the frustrations with a jog around the neighborhood with a nearby friend make "adulting" a little less hard at the end of the day. 
Building the affinity for the neighborhood
It turns out that connecting with your neighbors and building lasting relationships can actually help you to enjoy your home and community that much more. According to the Zillow findings, "90% of homeowners who are close friends with some of their neighbors say they love their home, and 89% of those homeowners say they love their neighborhood." Perhaps it's a case of the chicken or the egg- does loving your home make you invest in your neighbors or does investing in your neighbors make you love your home? Frankly, we're not sure; but no matter which came first, the love for both home and neighbors is strong. That's something worth celebrating.
Interested in a neighborly Summerville community? Learn about villages, homes, and our community, then plan a visit!