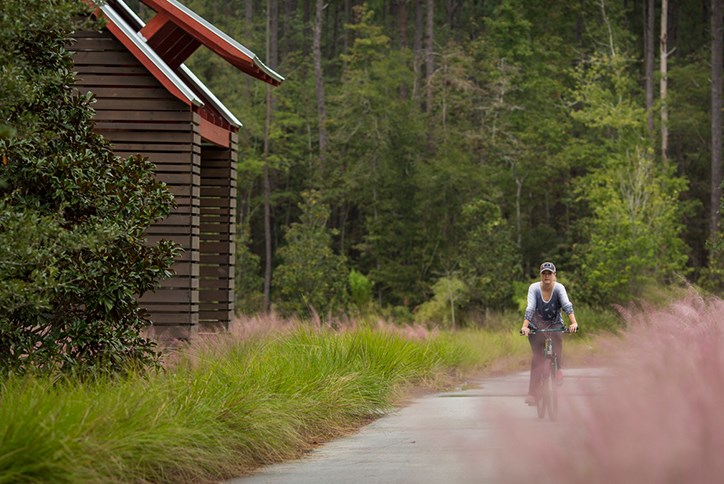 Walk, bike, or golf-cart: all the ways to get around Nexton
At Nexton, a 10-mile (and growing) network of trails and sidewalks weaves woodlands, wetlands, and open space into our neighborhoods. These trails also connect homes to amenities and shopping and dining space, allowing homeowners to live, work and gather without ever getting into a car. It's a lifestyle that's more convenient, more sustainable, and frankly, more fun! 
Take a walk
As humans, we have the most convenient, efficient means of transportation right on our bodies - our own two feet. Think about it: it's generally the safest way to travel. It saves gas, and therefore money, and keeps cars off the road. Perhaps most appealingly, traveling by foot allows one to soak in the Carolina sunshine, breathe fresh air, and appreciate one's surroundings.  All of which is why Nexton has been meticulously designed to not only allow for walking, but to inspire it. Our expansive trail, sidewalk, and pathway network allows travel from neighborhood to neighborhood, and makes getting to and from hot spots like Nexton Square – where you can soon enjoy a margarita at Taco Boy or lunch at Poogan's Porch – a breeze. Gear up with walking shoes from our friends at Fleet Feet and get moving!  
Bike
There's nothing like the feeling of wind in your hair as you glide through the neighborhood atop a bicycle. Whether for leisure or for health, bicycling is a time-tested way to travel that has a slew of benefits for the rider and the community. Riding a bike is great exercise, reduces traffic congestion, and provides fun for the whole family. Studies show that bicycle friendly communities also enjoy increased property values. At Nexton, you'll find bike lanes along major thoroughfares, bicycle parking at retail establishments, and a community of like-minded, bike-riding neighbors. You can even meet all your bicycle-related needs right here in the community. The Bicycle Shoppe will soon be calling Nexton home!
Golf-cartabililty
Traveling by golf-cart is economical, thanks to their easy maintenance and reduced fuel needs. Those benefits alone make owning one a worthy investment. But they also help garner a sense of community. Traveling at lower speeds, golf carts encourage connection with your neighbors, giving you a chance to share greetings with passersby. Perhaps most importantly, golf-carts are just plain fun to drive! Hop aboard for quick trips to the community clubhouse, to visit friends' homes, or just to enjoy the scenery and fresh air. Try an eco-friendly golf cart from Lightning Bugz Rentals to see if owning one will fit your lifestyle. When you're ready to pull the trigger, hit up our friends at Palmetto Custom Carts at their new Summerville location.