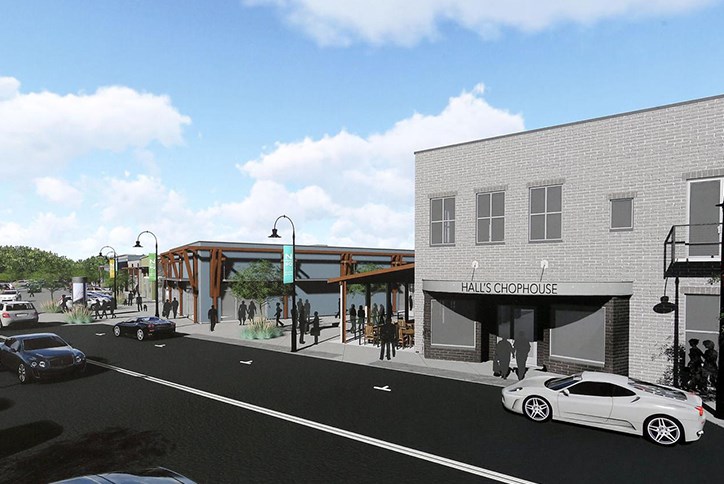 Shop & Dine at Nexton: Halls Chophouse
Get ready, Summerville. Exceptional hospitality, fine dining, and the best steaks just north of Charleston are headed our way!
This summer, Halls Chophouse will open a third location at Nexton Square. We caught up with General Manager and proprietor Tommy Hall to hear more about what we can see, taste, and imbibe at the new location.
Big city steakhouse, small town comfort
What makes Halls so special? It starts with the Hall family's love of great food and a dedication to incomparable hospitality. "Halls is a cutting-edge American steakhouse with the best prime beef and the best hospitality money can buy," Tommy explained.
The Halls headed to Nexton will the same fun, warm atmosphere you've come to know and love at the King Street location, as well as food Tommy describes as "the best of the best." Along with their signature steaks, expect great veal and lamb chops; savory fish, chicken and duck dishes; and knock-your-socks off sides. "What we do here culinarily - it's so unique. You get value. We don't cut corners."
Tommy describes the vibe at Halls as energetic and friendly, complimented by live music seven nights a week and an uber-talented team. "The most familiar thing for Halls at Nexton will be our hospitality. Whether you come in for a glass of wine or one of our delicious steaks, you'll have a great experience."
It's an atmosphere that's family friendly, too. "I love seeing kids get a chance to experience to a fine dining atmosphere in an unstuffy environment. We have something for everyone – from Sunday brunch to a big anniversary celebration."
A cutting-edge Halls experience
So what will be new at Halls at Nexton? Get excited for a cutting-edge Halls experience. "The Halls Chophouse at Nexton will have all the bells and whistles we've always wanted to do. From the outdoor roof deck patio, to the fine dining experience indoors. We'll have all the things you want to see in a big city steakhouse," Tommy told us.
It will be an experience perfectly suited for Nexton. "Charleston is so special, and we see the growth going north up 26. Nexton is an up-and -coming area, not only to work and live, but also to play and create memories."
We couldn't be more pleased to have Halls join the Nexton family. Stay tuned for an exact opening date of Halls Chophouse and more in Nexton Square.