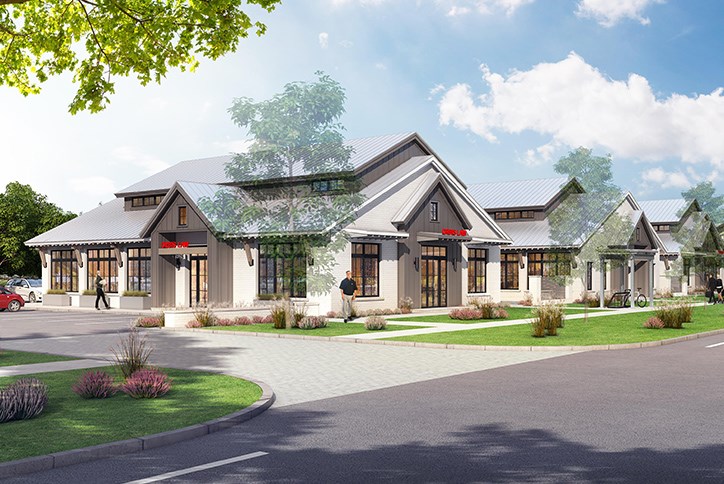 WorkPlace at Nexton: Flexible, boutique office space
The office space of the future – a place with exceptional design, plentiful amenities, and an accessible location – is the office space of now at Nexton.
Coming soon to the growing Nexton community are boutique, drive-up office spaces custom designed and developed by the talent at SL Shaw & Associates. Dubbed WorkPlace at Nexton, the area will include six buildings ranging from 3,500-5,000 square feet that can be split into smaller units - owned or leased - and customized to fit your specific business needs.
The new office space is adjacent to Nexton Square, so that business owners, employees, and clients will have quick access to restaurants like Taco Boy and Vicious Biscuit as well as conveniences like Optical Impressions and fitness studios. Not to mention several parks and miles of walking and biking trails.
SL Shaw chose Nexton for many reasons, the most important being the convenient location. "Nexton has so many positives, including nearby Nexton Square where the region's most desirable shopping and dining destinations are opening this summer," explains Phillip Manchester, Managing Partner at SL Shaw.  "And the geographic location doesn't get more convenient; it's directly off I-26, which makes it easily accessible to everyone throughout the Charleston area."
 "The walkable, pedestrian-focused, low-profile approach to community building also fits our idea of a modern community. Homeowners can ride their bikes to the dentist or drive their golf cart to work; you have all the services that you want and need right inside your neighborhood."
And you don't have to live at Nexton to see the benefits of expanding your business here, Phillip explains. "Access to the Summerville market, including scores of new homeowners in Brighton Park Village, Del Webb, and North Creek Village, make it an ideal spot for a satellite office or a new business location."
Phillip also noted design among the community's many attractions. "Nexton has also done an exceptional job promoting creative design throughout the neighborhood. It's something we're excited to be part of."
There's also the "cool-factor," he adds, which comes from "attention to detail and the upfront investment in placemaking. The thoughtfulness put into Nexton is impressive."
For SL Shaw, it's all about how the sum of the parts comes together to create an ideal place to live and work. "Nexton isn't just another neighborhood. It's a fully integrated and functional live-work environment, and it's smack in the middle of Summerville. Nexton is known as a model of sustainable growth for the blossoming Charleston region. You can accomplish your daily routine within the community, reducing car trips and easing daily life. It's the way people want to live."
User-friendly office development
Masters of the modern-yet-timeless office design, SL Shaw offers turnkey buildings custom designed to meet the business needs of the future. As developer and contractor, the team serves as liaison to architects, engineers, and leasing agencies to provide a full-service approach to delivering commercial office space. That means business owners can focus on what they do best – running their business.  
SL Shaw has been honing their craft since the late 90s, and they're known for going above and beyond to accommodate clients. "We make the process both easy and fun," explains Phillip. "Over the years, we've done more than 750,000 square feet of office space and delighted our customers along the way.
Among the many things their clients appreciate is the ability to buy or lease the building while getting a custom-designed office space. "There's no retrofitting into an existing building. Business owners meet with an architect to design the space to their specifications. And because we are the owners, developers, contractors, and even financers for the company, the process doesn't get any easier."
"We've done this in many locations, but very few are as well put-together as Nexton," says Phillip. "It's the perfect environment for expanding companies, those relocating, or entrepreneurs seeking a place to grow."
Are you a business owner looking for modern office space in a thriving community? Get more information about joining the growing Nexton family: phillip@slsdev.com or 225-413-0128