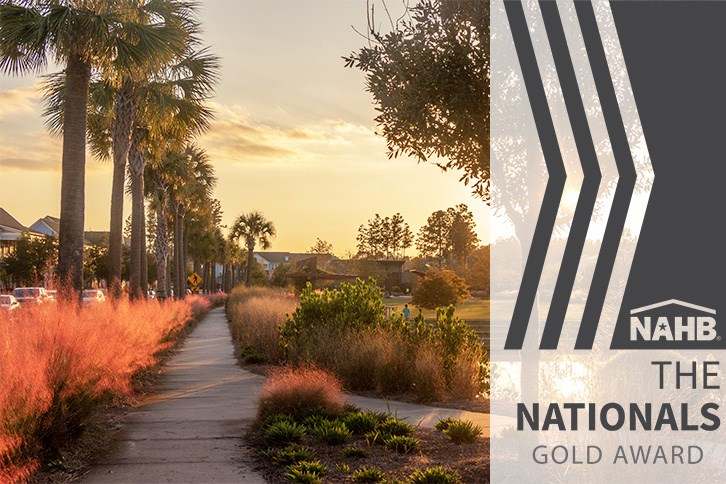 Nexton Named Best Master Planned Community in the USA by NAHB
Are you sitting down? Because this is a big one. Champagne-popping, ball-dropping, sound-the-alarms big!
During a virtual rendition of the National Home Builders Associations'  Nationals Awards on March 5, Nexton was named Best Master-Planned Community in the USA.
We'll give you a second to re-read that. 
Nexton is the Best Community in the country. 
How about a cherry on top? Nexton also received a Gold Award for Best Brochure (see the award-winning beauty here) and Silver Awards for Best Community Welcome Center and Best Signage. 
Presented each year by the NAHB, The Nationals recognizes the year's most outstanding work in the industry across the country. Gold Award winners were selected from a field of over 900 entries by a panel of industry professionals. 
In other words, it's like the Academy Awards of the home and community building industry. But with a better statue. 
"The Nationals are the most prestigious awards of their kind, setting the benchmark for innovations in new home design, marketing and sales," said Angela Harris, chairperson of the Nationals. "NAHB's commitment to recognizing originality, imagination and success has been exemplified by its award winners since the competition's inception."
We're truly bubbling over with pride, excitement, humility, and gratefulness. But before we celebrate further (oh...the celebration to come!), we have to recognize the dozens of colleagues, agencies, makers, thinkers, and talents who made this recognition possible. 
505 Design | Ads Intelligence | Ashton Woods | Berkeley County | Bihl Engineering | Bridge Commercial | CCMC | Centex Homes | Charleston Homebuilders Association | Choate Construction | Cove Creative Studio | CTAR | David Weekley Homes | Del Webb | ESP Engineering | GPA Professional Land Surveyors | Hart Howerton | Hill Construction | Home Telecom | Homes By Dickerson | Ink Architecture | Insight Group | Integrated Site Management | J.H. Hiers | JBREC | Kantar | Landmark Construction | Lee Kaess | Lou Hammond Group | LS3P | Limelight | Liollio | Luna Pearl Studio | McMillan Pazdan Smith | Meade Agency | Myatt Landscaping | NASH | National Association of Homebuilders | New Leaf Builders | Newkirk Environmental | Newland | Nexsen Pruet | O.L. Thompson | Palmetto State Lighting Solutions | Pulte Homes | RealtyLink | Remark Studio | Sanders Brothers | Saussy Burbank | Seamon + Whiteside | Sides Seeding | Strada Advertising | Street Sense | Stubbs Muldrow Herin Architects | Terracon | The Greenery | Town of Summerville | TrueHomes | Walker Brothers Construction | WestRock
Thank you, thank you, thank you. We're so grateful to each and every person that's had a hand in the conception and creation of Nexton over the past decade! Cheers to more to come!