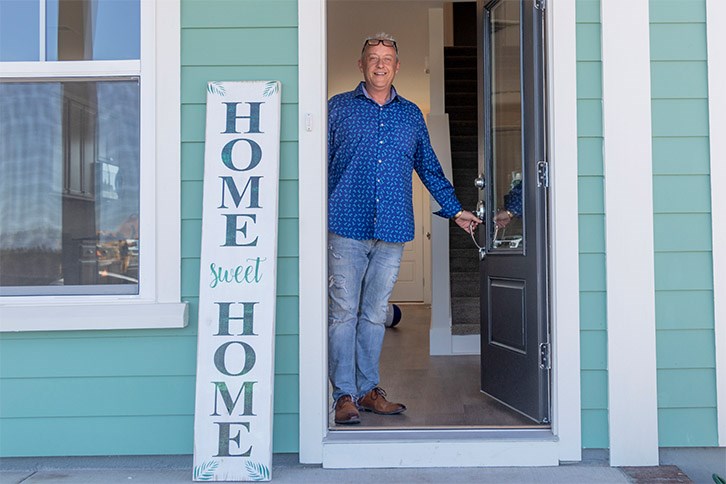 Meet Mike, Midtown Nexton's First Resident
"When I saw the double porches, I knew that was the house."
Lowcountry native Mike Phillips didn't expect to stumble upon the perfect-for-him home at Nexton when he was driving around on a Saturday afternoon a few months ago. But the prospect of a cozy swing bed on a private second-story balcony overlooking a sprawling park sealed the deal.
On Friday, Mike turned the key in the door to his new Saussy Burbank Cottage at Nexton for the first time. "Everyone here has been fabulous from start to finish, and I consider myself a tough customer," he told us with a chuckle. "I made the right decision."
He's the first person to call Midtown Nexton home.
Auto shop manager by day and boat Captain by weekend, Mike loves the outdoors and having an active social life. "I came to see the house many times while it was under construction, and I kept seeing people out riding bikes, families' throwing footballs in parks, and even caught some live music at an event," he said. "I knew this was the place for me."
Mike's new home, a Grace Cottage built by Saussy Burbank, fit Mike's requirements in just about every way. "Excellent quality for the price" compared to other communities he shopped, he told us. "And Ann, the agent at Saussy Burbank, was amazing throughout the process."
The Grace is just over 1200 square feet, and has 3 bedrooms and 2.5 baths. For Mike, the smaller square footage means less home maintenance and more time outdoors. Plus, thanks to the Lowcountry's nearly year-round good weather, the double porches expand Mike's living space, especially when the swing bed is installed!  
What else does Mike love about his new home? It would be easier to list the things he doesn't like (they're few and far between). He's just a 11-minute drive from work, considers the proximity of I-26 a major plus, and can't wait to soak up all the fun Nexton Square has to offer. Already, he's had a friend ask to meet him at "Nexton" for dinner. No restaurant defined in advance – they know they'll find a great spot among all the options in Nexton Square.
Join us in extending a big, hearty welcome to Mike. We're so glad you're here!