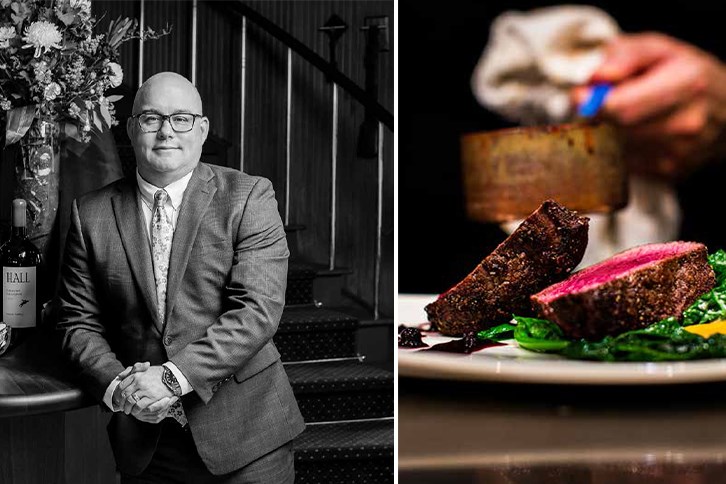 A Taste of Charleston: Halls Chophouse in Nexton
It was 2009, the height of the financial crisis. Strolling down Charleston's eerily quiet Upper King Street, Bill Hall had an idea for a new steakhouse. A bad idea, he was told. Not just the timing, but the not-so-hopping location. Intuition said otherwise, though. Opening night may have earned a mere $58 (with money borrowed for the cash drawer), but Halls Chophouse quickly became one of the most award-winning restaurants in the U.S. And part of a thriving new downtown district.
Happily, intuition struck twice. As early as 2013, Hall had his eye on Nexton for the restaurant's first not-downtown location. "Mr. Hall knew Nexton was going to boom — it was a plan full of vision," says Brent Register, General Manager at Halls Chophouse Nexton. "And Nexton has blown away our expectations. We are so happy to be here."
The feeling is mutual. Drop by at noon and you'll find lunching neighbors, as well as executives from nearby Boeing and Volvo. Evening is prime time for everything from family dinners to date nights to marriage proposals. "People come to Halls to celebrate. On any given night, there might be eight anniversaries and 15 birthdays," says Brent.
So, what's the draw? Amazing food, of course. Let's start with the steaks, sourced from Allan Brothers in Chicago. Perfectly aged, artisan butchered and prime grade, this purveyor's beef represents the country's top 2% in quality. Halls' specifications are even more stringent — their cuts are among the finest .5 to 1%. Along with your impeccably seared ribeye with truffle butter, you might choose legendary side dishes like lobster and smoked bacon mac'n cheese or delicately breaded fried green tomatoes. And never, ever skip dessert, namely the caramel cake. A bona fide Southern classic. Hungry yet?
But great food is only half the story. Exceptional service is the other. Halls is a family business, and people feel hugged right into it with hospitality that goes way beyond the expected. Even for the South. Don't be surprised if you find yourself chatting it up with folks at the next table.
More than likely, Brent or one of the Halls seated you there intentionally, knowing you'd hit it off. They'll get to know your preferences and anticipate your needs, just as if you were a member of the family. Even the food is served home style — brought to the table in sizzling skillets, creating moments as shareable as the dishes.
If you've been to Halls in Charleston, this all may sound familiar. Exactly as planned. Halls Chophouse Nexton was meticulously designed to provide the same menu, hospitality, look and vibe of its downtown location. With just a few important differences: patio dining and plenty of free parking. (Score one for the suburbs.)
Charleston really isn't all that far away, but having one of its nationally acclaimed restaurants just down the street? Now that's a tasty proposition.