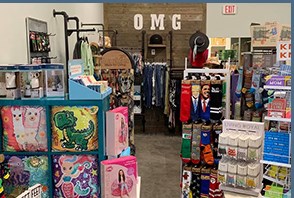 Shop & Dine at Nexton Square: Simple to Sublime
Simple to Sublime is a locally owned and operated business that has called Summerville home for nearly 10 years. We're thrilled to have their extensive mix of planet-friendly products coming to Nexton Square!
A fun assortment of this and that
What can you buy at Simple to Sublime? Well, a little bit of everything. From silly socks and fabulous jeans to relaxing aromatherapy and all-natural skincare potions. Despite the variety, you'll find a common theme: these products make you smile. That makes it the perfect spot for finding unique birthday presents or just-because gifts. Make it a frequent stop on your shopping schedule – there's always something new and fun to check out!
Feel good about your purchase
You'll feel good shopping at Simple to Sublime. That's because, whenever possible, owner Samantha Moore buys products made in America from other small businesses. And when buying products from overseas, Samantha ensures they're ethically sourced and fair trade certified. You're buying products from companies that don't harm you or the environment, and often give back to worthwhile organizations. Win-win-win.
A great fit for Nexton
"We're super excited to move to the space in Nexton," Samantha told us. "Nexton is a great fit because it's such a unique neighborhood; there's not another one like it in Summerville. And I feel the same way about our store." We couldn't agree more, Samantha! We can't wait to have Simple to Sublime in our growing community. Look for a grand opening date this spring or summer.