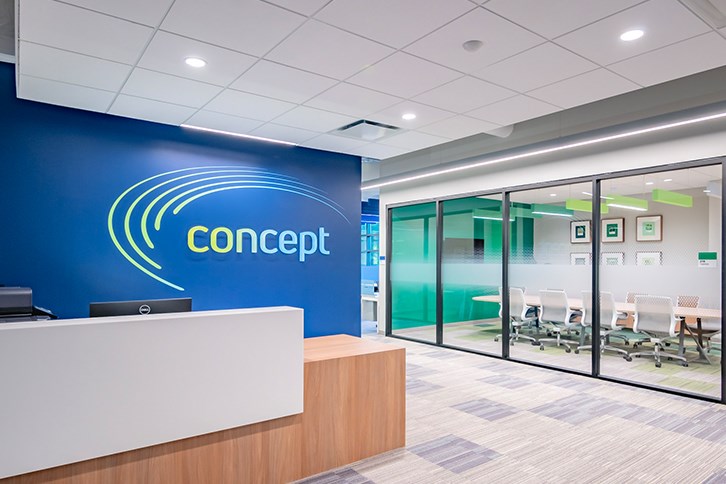 Co-working to the rescue: Discover Concept by Home Telecom
How is your home office working out? If you call Nexton home, you're likely Zooming and uploading files at lightning-fast speeds. But you could be finding other forces a bit, ahem, distracting.  We're looking at you, kids. And spouse. And dogs. And pantry filled with Girl Scout Cookies.
As usual, Home Telecom to the rescue. In the previous decade, they anticipated the importance of easily accessible 1 Gbps speeds and debuted GigaFi; three years ago, they upped their game with the introduction of 10 Gbps speeds for businesses with big digital demands. This time, their crystal ball showed an increased need for a work-from-OUTSIDE-the-home space here at Nexton. And Concept was born.
A modern workplace: Concept
Concept, a new high-tech collaborative workspace located on the second floor of the new Home Telecom Technology Center in Nexton, offers a truly unique open-air co-working environment. Spaces range from desks to private offices, complimented by an amenity-rich atmosphere. Think: multiple conference rooms, private phone rooms, a slew of breakrooms, dining area, and private seating overlooking Nexton's lush landscape.
Of course, it's powered by Home Telecom's quintessential multi-gigabit broadband internet and WiFi.
All spaces are fully-furnished for true turn-key office space in one of the region's best locations. Concept is just seconds from I-26 and near all the conveniences of Nexton. Plan a weekly bonding lunch at D'Alessandro's with your colleagues. Treat an important client to Halls Chophouse. Walk to Refuel for an afternoon pick-me-up in the form of a milkshake. You deserve it.
Also convenient: flexible leases. Try month-to-month, 6, 12, or 24 month terms.
Take a tour, right now:
Can I work at Concept?
Yes! Concept is an inspiring, technologically-advanced, comfortable place for the region's growing list of entrepreneurs and business owners to meet, collaborate, and lead the way to the Charleston region's bright future.
Whether you're a company of one or 20, Concept has a working space and the internet speeds to keep your business thriving.
Take a tour and see this incredible space firsthand! Bridge Commercial is standing by to answer all your leasing questions. Schedule a tour with Mark Mattison by calling 843-437-1545 or email Mark.Mattison@bridge-commercial.com.