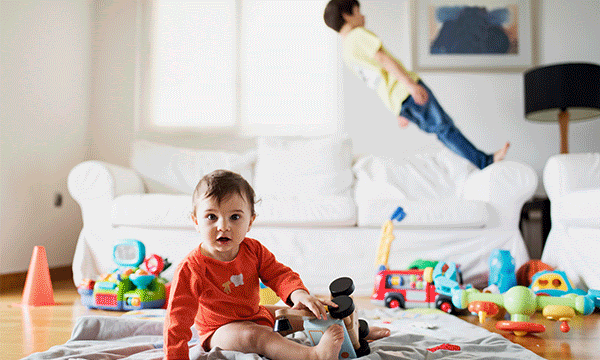 Craving more space? You can have it.
Cramped. Crowded. Overloaded. Whatever you call it, many families are finding their current living situation suddenly less-than-ideal.
And that's because our homes now have a bigger job description. Doing double, triple, even quadruple duty. Your house is now also the schoolhouse. The office. The gym. The kitchen is now serving three meals a day and the bathrooms now getting twice the daily visits.
This may be the perfect time to stretch out a bit, without stretching your budget. Nexton has a variety of homes available for immediate move in. Plus, current low interest rates and builder incentives all add up to affordable home ownership. And we promise to make the process easy. Because we all need a little easy in our lives right now.
If you need just a little more room to stretch
Bigger doesn't have to mean a lot bigger, or actually, even bigger at all. Some homes live beyond their square footage, thanks to clever use of space indoors and out. Apartment living – particularly the apartments at Nexton – come with a slew of benefits. But it also means sharing walls, elevators, and even amenities with people outside of your family.
So if everyone being home, all day, all the time, has you feeling the need for more privacy, start by looking at the Cottages collection by Saussy Burbank. Starting in the low $200s, the flexible home plans get you just the space you need, plus a private backyard (and no shared walls).
Or meet in the middle with a townhome by Pulte Homes. Thanks to a special townhome POA, you'll enjoy the lock-it-and-leave-it lifestyle of an apartment (exterior maintenance and landscaping are all included), but with a little more space. The Byrnes townhomes also have private backyards and even garages.
For those craving square footage
If your current house is starting to feel like a tiny home (remember that trend?), consider one of Nexton's single family homes with 3-5 bedrooms and up to 3,000 square feet. Whether it's in your gourmet kitchen or great room, a little more space can make a big difference.
Brought to you by seven talented builders in three neighborhoods, the options are almost endless. And if you want to move sooner rather than later, we have good news: Nexton has 20+ homes ready for immediate or summer move-in.
Start here with a virtual walk-through of dozens of floorplans. Then explore our move-in ready homes to find your perfect match. If time is on your side, check out over 120 home plans (we weren't kidding when we said you'll have choices), narrowing it down to the perfect-for-you size and style using the home finder.
Easy and safe
Nexton is committed to supporting a responsible and healthy community, so we've put together all kinds of ways to explore your options without leaving your current home. Our team is fully available for calls, virtual appointments, chat (click the little orange button in the bottom right of the homepage), and emails. Maybe even a virtual hug or two. Our model homes are open by appointment, so please call in advance. In the meantime, take a few virtual tours. If you need (or want) to move, we'll get you there. Let's talk.