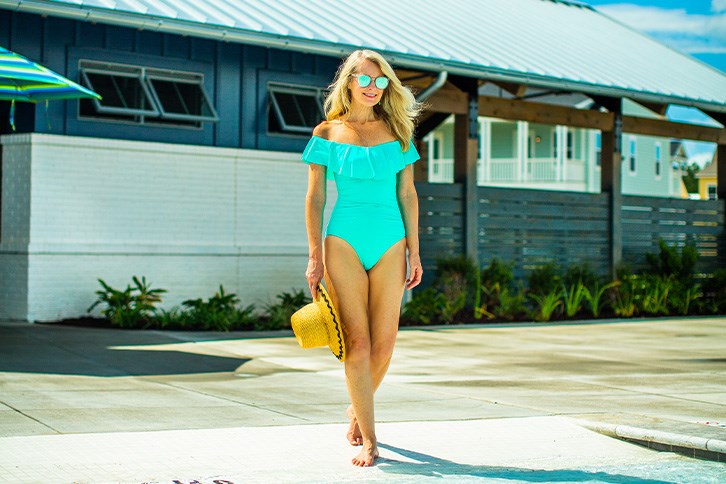 Nexton is fun for the young and young-at-heart
A rippling splash pad for extra steamy days. An inventive play structure for hanging and dangling. Pick-up games of every make and model across dozens of parks. It's undeniable: the kids are livin' their best lives in Nexton. These long summer days are only amplifying the year-round fun!
The only people having a summer as action-packed as the kiddos? Our friends at Del Webb Nexton, where active adult living is all about spontaneous fun and friendship.
Close to home
It all starts at The Core, Del Webb Nexton's striking centerpiece. Whether they're aiming for a few laps in the pool or a long chat with the neighbors, it's always buzzing with activity. Del Webbers also love the sports courts (pickleball FTW), fitness center, and flex rooms for the community's ever-growing list of clubs.
More than three dozen groups are currently active and cover a wide-ranging array of interests, from the very broad (Birthday Bash group) to the very specific (Cricut Crafters)!
Just a hop, skip, and a jump
Outside of Del Webb Nexton's beautifully maintained grounds, the summer fun flourishes. As members of the Nexton Residential Association, they also gain access to Midtown Club, Nexton's newest and most exciting amenity yet.
When a day-by-the-pool needs a fresh setting, the resort-style lagoon with lap lanes and beach-entry is ready and waiting. New parks and a truly inventive playground are pleasing Del Webbers' smallest visitors. Ready to shoot a few hoops? The sports pavilions are also getting a test run before their official opening. Soon, the club building will be open and so will the opportunities for camaraderie and connection.
Lowcountry living
What's the best part about Lowcountry living? All the ways to soak up summer beside our favorite feature - water! Del Webbers and beyond love Sullivan's Island for its chill beach vibes and upscale cuisine. Longtime favorites Obstinate Daughter and Poe's are always a hit, but seafood lovers of all ages are going to die for The Longboard, a new concept that's come stateside via St. Johns.
In between delicious bites, take in the sea aboard a boat. Want to kick back while someone else does the hard work? Look into Cruisin Tikis Charleston, a literal Tiki Hut that, well, cruises! You could also opt for a Sip & Sea party boat departing from Shem Creek, or take in some history at Fort Sumpter via The Spirit of Carolina. Prefer to caption your own ship? Join Carefree Boat club for all the benefits of boat ownership without the burdens.
For the most adventurous, our friends at Dolphin Water Sports offer jet ski rentals. Ride times are long and the locations plentiful. It's a hoot for the whole family!
Living in Del Webb Nexton, or any part of Nexton for that matter, is pretty much like summer camp for grownups. Join the fun!