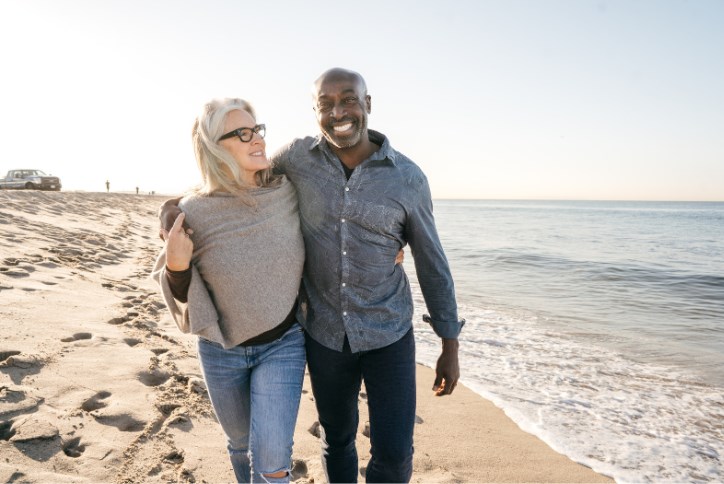 Nexton is 55+ approved: 9 Reasons to retire in our Summerville, SC community
What does the + in 55+ mean anyway? Well, more years, obviously. More knowledge? Absolutely. At Nexton, we know it also means more living. The however-you-like it kind of living.
Slow and easy? Pull up a pool chair and take in the palm-tree-on-blue-sky view. Are you the can't-stop-won't-stop kind? Get on that airplane with no worries - your home includes lawn care. Maybe there's a hobby you've always wanted to try. Or a long list of novels you'd like to read - or write. Maybe, and given the trends, most likely, the pickle ball courts are calling your name.
Whatever flavor of active adult living suits your taste, you'll find it here at Nexton. And snowbirds, if you're scouting locations to escape winter's chill, let the mild climate and warm hospitality of Nexton woo you, too. We're welcoming both seasonal guests and permanent residents in our growing Summerville, SC community. If you're still not swayed, read on for our top ten reasons to make the Nexton life your own:
1. At the Heart of it all (also known as: location!)
Nexton is conveniently located just minutes from the heart of downtown Summerville and a short drive from the historic charm of Charleston, putting you at the center of cultural delights. Whether your go-to experience includes a gourmet meal, a garden walk, a history deep-dive, or all three, you'll never want for entertainment.
And there's no mention of location without noting how quickly you can satisfy your wanderlust. We're 20 minutes from Charleston International Airport and 20 minutes from I-95. You can even head eastward by taking a cruise to the Bahamas. The world is at your fingertips.
2. A Culinary Haven
Speaking of gourmet meals, the Charleston region is a verified foodie paradise. The culinary journey here is rich, flavored with both tradition and innovation.  From traditional shrimp and grits to adventurous ethnic cuisine, Charleston's food scene is always evolving. And much of it is right here in Nexton, so no need to go far for an award-winning meal.
3. Beach Days Every Day
The pristine beaches of South Carolina are just a short drive from Nexton. Whether it's catching the sunrise or collecting seashells, the beach life here doesn't require planning a day trip. It's as spontaneous as your heart desires. The only problem…how do you choose? Let's break it down from closest (40 minutes) to furthest away (75 minutes):
Sullivan's Island: Great dining options and scenic vistas make a perfect pair on Sullivans. Also, it's home to a fascinating Revolutionary War fort and an iconic lighthouse.
Isle of Palms: 7 miles of pristine shoreline in a family-friendly atmosphere. Enjoy beach volleyball and beachside dining.
Folly Beach: Nicknamed "the Edge of America," Folly is casual and cozy. Bring a surfboard if that's your style. Search for fossilized shark teeth along the shoreline. Or just spend a lazy day on the sand.
Kiawah Island Beachwalker Park: Wild and wonderful Kiawah Island is an unspoiled sanctuary. Plan your trip to catch the tide pools on the beach, in which you can spot starfish, hermit crabs, and more critters. Of course, there's world-renowned golf here, too.
Edisto Beach: Not a single traffic light to be found. Edisto is serene, charming, and loaded with small (really small) town appeal.

4. Here, your nest-egg goes farther
South Carolina is known for its retirement-friendly economy, with an affordable cost of living and low taxes. Your hard-earned savings go further at Nexton.
Here's how you'll save in South Carolina:
Untouched Social Security: That's right, no state tax on your benefits.
Low Property Taxes: Among the lowest in the nation, meaning more savings for you.
Generous Retirement Deductions: There's a notable deduction on state income taxes for retirees, stretching your pension further.
Tax Exemptions for Seniors: Potentially shave $50,000 off of your property's market value from local property taxes.
Legacy Safeguarded: No estate taxes. Your legacy, preserved.

5. Weather That Woos
The rare and whimsical snow flurry? Sure. Back-breaking shoveling? Never. Enjoy outdoor activities all year in South Carolina's comfy climate. Nexton's location offers warm temperatures nearly year-round, allowing you to indulge in outdoor activities and enjoy a more relaxed lifestyle without the worry of extreme weather conditions.
6. Recreational Paradise
Do you put the "active" in active adult? You're going to love it here. Golf courses, fishing spots, hiking trails, and water-based activities are all easily accessible. Many of which can be found right here in Berkeley County. Stunning Cypress Gardens, lush Old Santee Canal Park, and fascinating Mepkin Abbey are Lowcounty favorites. Beyond Berkeley County, you'll find enough sporting and outdoor recreational activities that you could do something different every day of the year. Seriously!
Whether you're a nature enthusiast or a sports lover, you'll find countless ways to stay engaged and maintain a healthy lifestyle.
7. Rich in History and Arts
Fort Sumter, where the first shots of the Civil War rang out. Patriots Point, home to dozens of retired historic military air- and watercraft. Charlestowne Landing, where Charleston's first settlers landed. And even here in Summerville, the Birthplace of Sweet Tea. A staggering 700 buildings in Summerville are on the National Register of Historic Places.
The region's history is deep, rich, and layered. Here is a place you can truly immerse yourself, from strolls in antebellum mansions and famous plantations to national landmarks and cobblestone streets.
8. Top-notch Healthcare Facilities
From renowned hospitals to specialized clinics, you're always in caring hands:
Diverse Healthcare Options: From large hospital systems to specialized clinics, there's a range of healthcare services, and an increasing number right here in Nexton.
Nationally Recognized Institutions: Facilities like Roper St. Francis Hospital and the Medical University of South Carolina (MUSC) are renowned. MUSC, in particular, is nationally ranked in specialties like rheumatology, ear, nose, and throat, as well as cancer.
9. Fun for the young and young-at-heart
Yes, your grands will love visiting. And they might even be a little jealous of your fun-packed social calendar.
Over in Del Webb Nexton, more than three dozen+ groups are currently active and cover a wide-ranging array of interests, from the very broad (Birthday Bash group) to the very specific (Cricut Crafters)! Brighton Park and Midtown residents also enjoy community-formed groups, like Bunco Club and the Garden Club.
And these are in addition to a calendar filled with POA-planned fun, from concerts to golf cart parades and everything in between.
Which Nexton will you choose?
Nexton isn't just a choice – it's a lifestyle. All that's left is choosing the home that suits your needs.
Del Webb Nexton, our active adult community, is all about spontaneous fun and friendship. It's a place where you can catch a trail down to the clubhouse for a few laps in the pool, a long chat with the neighbors, or just to hang out with a latte and a good book.
And then there's North Creek and Midtown, where you'll share parks and trails with tricycles and strollers, and all the fun that comes with them.
Or learn more Hammock Walk, a new 55+ community by Ashton Woods, opening later this year. You'll find livable, lovable villa homes inspired by the Lowcountry and perfected by Ashton Woods' nationally-acclaimed design team.
Whichever you choose, expect a lot more out of your 55+ life here. More fun. More relaxation. More joy!