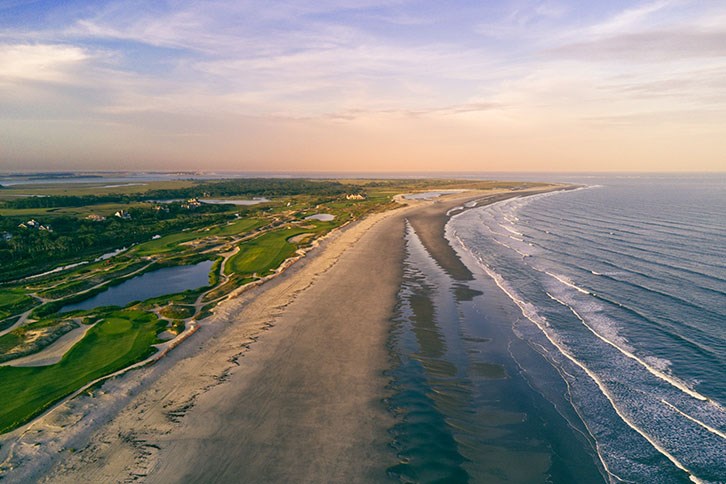 Golf lovers: this blog's for you
Golf lovers all over the Lowcountry are teeing up to get in the rounds while the warm weather is here. Whether you want to practice your swing at a local course, or you're looking a more luxury-golfing experience, there's a course for you in the Charleston region. So we've put together a list of some of our favorite golf courses in the area for Nexton residents (current and future) and their guests to check out!
Crowfield Golf Club, Goose Creek
For those looking to stay close to Nexton, Crowfield Golf Club is less than 20 minutes away. Often described as "challenging and well-maintained," this course is a great choice for anyone's typical round of golf. The fairways and greens are kept neat year-round, and the staff is welcoming to all guests. The course is accompanied by a driving range, chipping area and putting green, so it's also a wonderful choice for other types of practice.
Legend Oaks Golf Club, Summerville
Named the 2010 South Carolina Golf Course of the Year and voted as one of the top three courses in the Lowcountry, the Legend Oaks Golf Club is a local favorite. The yardage per hole is shorter than most surrounding courses, but the presence of water on 14 holes gives plenty of opportunities to hear a ball land with a splash. Much of the plantation course is shaded with beautiful oak trees, and the golf carts contain GPS measuring equipment and other helpful features to enhance your game. While originally lacking a driving range, Legend Oaks has recently introduced one to the course, so you can go to practice your swing off-course. Reasonably priced and pleasant for all experience levels, the Legend Oaks Golf Club is a delightful local option.
The Golf Club at Wescott Plantation, North Charleston
The Golf Club at Wescott Plantation is one of the largest golf courses nearby, and the only 27-hole facility in the Lowcountry. The course contains three different nines: Oak Forest, Burn Kill and Black Robin, so you won't easily tire of the varied playing options. As expected of a course in the area, Wescott Plantation's holes are surrounded by rich greenery and cleverly placed water obstacles. The golf club is also the perfect place for lessons. With awarded staff, the Wescott team provides professional instruction to people of all ages and disabilities. They provide junior golf camps year-round, and have taken initiative with girls' golf programs.
The Ocean Course at Kiawah Island
With the latest PGA happening in late May of 2021, The Ocean Course at Kiawah Island has gotten its fair share of attention. It's all deserving though. This seaside course has stunning views and demands a tactical playstyle. The proximity to the beach presents its players with ever changing wind direction and intensity along with challenging greens. Edged with sand dunes and grasses, it's certainly not the easiest place to find yourself out of bounds.  While it's a further drive and costs more than the local courses listed above, it's a cut above the rest. It's ranked nationally as one of the best golf courses, and it's one that's available for public play. There's not a weak hole amongst the 18, and it's a course that's enjoyable for both professional players and the average joe. So, if you're looking for a challenge accompanied by unbeatable scenery, this is a must-try course.
Osprey Point Golf Course, Kiawah Island
There's not a bad course on Kiawah Island, and Osprey Point proves that. While not as well-known as The Ocean Course, this course can hold its own as one of the best golf courses in the state. Even though the course is surrounded by water, it isn't too much of a hindrance and has few forced carries. Compared to The Ocean Course, Osprey Point is more forgiving with wider fairways, less challenging greens and much kinder winds. Nonetheless, each hole is well thought out and unique for its players. For those wanting to try a more merciful yet comparably scenic Kiawah course, Osprey is the perfect place to go. 
Summerville Country Club 
As the oldest country club in Summerville, this golf course is a classic. Since its beginning, Summerville Country Club has been known for its friendly staff and familial atmosphere. The course is lined with pine trees and has greens made with Champion Bermuda Dwarf grass, which increase ball roll and speed. Being built in 1925, the distance from tee to hole is relatively short and easy to walk if desired. This course is truly a good fit for all experience levels. They provide four sets of tees which range from under 6000 yards to over 7000 yards, so the course can be challenging but not insurmountable. 
Patriots Point Links, Mount Pleasant 
Located just five minutes from downtown Charleston, Patriots Point Links offers beautiful views of Charleston's harbors and city. It's no surprise that they are one of the most popular event facilities in the area. The links style course has an awarded "Best Par-3 in the Lowcountry" 17th hole, and views of the historic USS Yorktown aircraft on the 18th. Maneuvering around the marsh and battling the wind, this course comes with its own set of challenges. Yet, the course is still enjoyable to all players with its open fairways and few tree obstacles. So, if you're looking to pick up a golf game before a trip into the city, Patriots Point Links is your go-to.