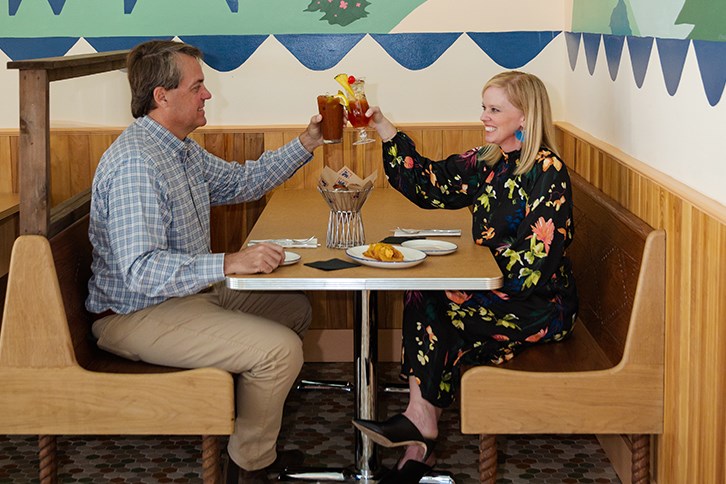 Date night destination: Poogan's Southern Kitchen
It's Friday night in Midtown Nexton, and you're hankering for an adults-only meal with world-class cocktails and Martha Stewart-approved fare. As you live in one of the country's #1 foodie destinations, a world of cuisine is at your fingertips. If you'd like to skip the drive to downtown Charleston this time, you're in luck. Nexton has brought – and continues to bring – the best locally-born and breaded (get it?) restaurants right here to the community.
Like Poogan's Southern Kitchen, a name that probably rings a bell thanks to the Charleston original, Poogan's Porch, that's been serving locals and visitors since 1977. If you've dined there (lucky you!), you know the menu, mood, and service add up to an experience more than worthy of the fanfare.
Poogan's Southern Kitchen takes all you love about the original and adds a more downhome twist, reimagining diner classics for a modern audience. Yes, you can have classic biscuits and gravy — or a strawberry shortcake biscuit with vanilla cream cheese spread. Chicken and waffles or a beet-and-goat cheese salad. Homey meatloaf and herby, sweet-tea glazed salmon. Hungry yet? Of course, the PSK menu also makes room for Poogan's traditions like the iconic she-crab soup and shrimp and grits.
Executive Chef Jacob Rios explains that some of the PSK magic comes from their acclaimed, super-fresh ingredients. "We source locally as much as possible," he says. "Like Adluh grits, collards from local farms, and flounder from the North Carolina coast."
For an impromptu date-night, consider starting at the 10-person bar, where the bartenders have already come to know the Nexton regulars and beverages of choice. Feeling adventurous?  Try the Charleston Dragoon Punch – it's like a fruity tea made for adults only – with black tea, dark rum, peach brandy, and fresh fruit. Or a Bourbonade, which is just like it sounds – a lemonade and Maker's Mark concoction - that's made with fresh lemon and lime juice. Of course, an abundance of wines and locally brewed beers are also available for your imbibement.
For the main event, there's no bad choice. Sea scallops or butcher's steak, famous fried chicken or the day's catch. Just make sure you start with the fried green tomatoes. Trust us on that!
Finish up with a perfectly gooey pecan pie. It's a southern staple, and PSK's is among the best.
Try a brunch date – kiddos optional

Yes, you read that right. But you don't have to call it a date – and, in fact, you can bring the whole family or even your colleagues! Poogan's Southern Kitchen serves breakfast (or brunch if you're a late riser) from 8 am – 2:30 pm every day of the week.
From the tried-and-true eggs + protein combos to Poogan's Monte Cristo (smoked ham, swiss cheese, strawberry jam, and maple syrup…yum), there's something to please all palates. It's a way to get a taste of one of Charleston's favorites if the dinner rush just isn't your style. And don't worry – the pecan pie is also available for brunch!