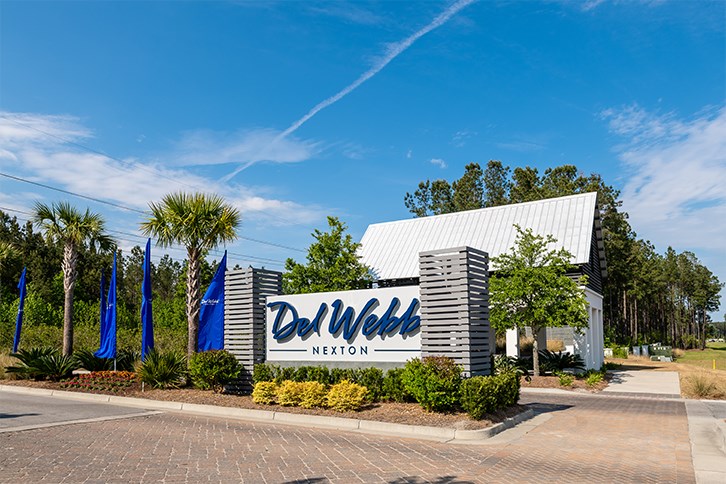 Del Webb living: Your 55+ Playground
If you live in Del Webb Nexton, your social calendar is likely starting to fill up. After a year+ of social distancing and online-only connections, residents are itching for in-person conversations, catching up with old friends and connecting with new ones.
Del Webb is the kind of place designed precisely for gatherings, both opportune and planned. With superb amenities and now, the delightful return of special events – everything from live comedy and music by the pool to pickleball, yoga and dance lessons. Watercolor classes and travel seminars. Remember how fun it was getting together with friends? We do too, so here we go.
Lifestyle director at Del Webb Nexton, Kelsi Gannon, gave us a peak into the Del Webb calendar, and it's clear gatherings, events, and groups are picking up. More than 35 groups currently exist within the community and cover a wide-ranging array of interests, from the very broad (Birthday Bash group) to the very specific (Cricut Crafters).
There's even a group that makes serendipitous meetings more of a sure thing – Lunch and Shoot Pool group, for example. Plenty of sports and fitness opportunities – Golf, Pickleball, and Tennis groups – as well as beloved games like Bunco, Euchre, Hand & Foot, and Mahjong. Bible studies, crafting get-togethers, ladies' groups, photography, supper club…the list goes on and on.
Community-organized events on spring calendars included highlights like a spring yard sale, visits from food trucks, line dancing classes, travel seminars (Portugal, anyone?) and even a guest lecture on Gullah Culture. Kelsi reports more exciting events are in the works for the duration of the summer.
Del Webb living
Your days at Del Webb Nexton aren't just busy. They're gratifying. Satisfying. Filled to the brim with activities that engage mind and body. Make a new friend. Discover a new talent. Learn something new about the world. Or about yourself. And whenever you feel like just hanging at the pool with a cold drink and a good book, well, you can have one of those days too.
Welcome back, social life. Oh how we missed you.