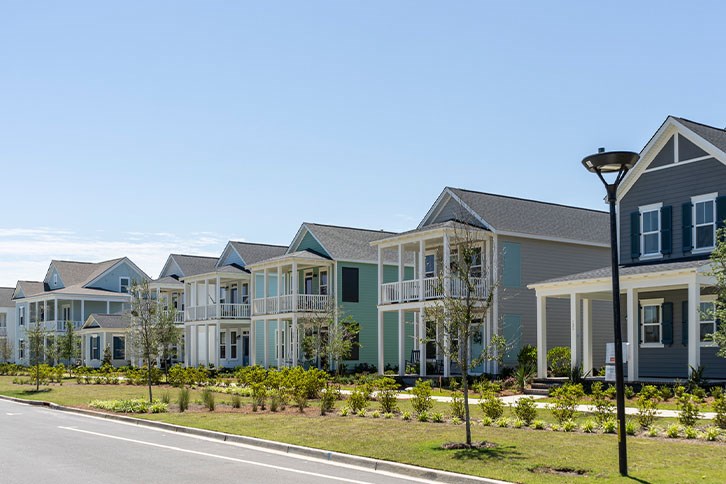 100 Reasons to Celebrate
This spring has been a special one, y'all! Yes, the pools are open and perfectly tempered for a refreshing dip. And Nexton Square continues to grow - with incredible additions like New York Butcher Shoppe and CodFather on the way. And Downtown Nexton, a mixed-use core of all of Nexton and beyond, has broken ground, But that's not why. This week, we're celebrating 100 home sales in our newest neighborhood, Midtown. 
Featuring five different villages spanning 1,000 acres, Midtown is inspired by traditional town and village layouts. The first phase, the Blueway District, pays homage to the extensive blueway system located in Berkeley County. 
The Blueway District will also be home to Midtown Club, an expansive amenity center with a resort-style lagoon with lap lanes, fun zones, and squirt jets for the kids. The club, which will be available to Nexton's Residential Association members come spring of 2022, will also feature outdoor spaces for food trucks and movie nights, pickleball and tennis courts, and a fitness room, yoga studio, and "living room." It's everything you've dreamed of in a community center plus much, much more.  
Like all of Nexton, Midtown is close by your favorite shops, Charleston-esque dining options, and a growing list of workplaces. Convenience is always top of mind at Nexton.
So take a minute while you contemplate the homes currently for sale in Midtown, allow us a moment to wax poetic about what this milestone means to us...
100 home sales might seem a given for a place selected as the #1 Community in the US by the National Association of Home Builders, but it's not one we take for granted. Our success stems from never losing sight of the people who live in our community, and understanding how we can make their days - and lives - a little bit better. Because Nexton is all about creating a new way of life in the Lowcountry. One that's healthful, sustainable, and livable in the ways that matter most to the people who live here.  
Okay, enough sappiness. 
A big thank you to our contractors, builders, and agents who made this goal become a reality. 100 sales! Here's to the next 100!