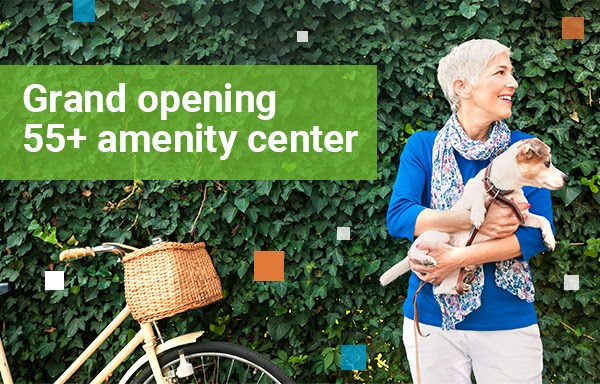 Ready to put the active in active adult community?
Calling all empty-nesters, retirees, or soon-to-be's: it's time to get happy -- by being active. Because it turns out, one begets the other. The brains at Yale and Oxford Universities found that those who exercised regularly feel happier. That means at Del Webb Nexton, happiness is just beyond your front door. Residents can connect with nature by enjoying the 50+ miles of walking trails that are rolling out-- and soon, benefit from a world-class fitness center right in the neighborhood.
And we mean really soon. Later this month, the social center of Del Webb Nexton will open its doors to residents. The 26,000 square foot amenity will be a place to gather with pals for cards, clubs, and chats. A place to stretch your muscles and soak up some sun in the resort-style pool. In the clubhouse, you can kick-start your day in a state-of-the-art fitness center or swim laps indoors. On the outdoor courts, pick up a game of tennis, bocce or the ever-popular pickleball.
"Del Webb Nexton was founded on the concept of lifestyle. We craft activities, clubs, and events that connect you to your passion. We want you to do what you love during this chapter of your life," Lifestyle Director Kelsi Gannon told us. "The clubhouse will really be the heart of the community - the place to make connections."
And because healthful living also means fueling your body with good-for-you foods, a state-of-the-art outdoor kitchen will be available for all your Lowcountry grilling needs. So everything from annual BBQ bashes to weekly burger nights can take place a leisurely walk from home.
Social Connections
Gathering is just as important to your health as the way you fuel and move your body. "The clubhouse is all about getting people together so they can share life on a more personal level," Kelsi shared. "At Del Webb, homeowners aren't just living in a neighborhood together, they're actually sharing it." Even your fuzzy, four-legged family members have places to get together and romp around!
In addition to planned or impromptu connections in the café, Del Webbers can choose from a variety of clubs and social organizations, making new friends who share similar interests. From wine clubs and women's luncheons to Tai Chi and water aerobics, there's no shortage of ways to embrace old passions and explore new hobbies.
"Active adult means learning something new. It's personal growth and having the time to enjoy whatever it is that makes you happy," Kelsi explained.
Nexton is Now
Besides being an amazing community in its own right, Del Webb is also part of the greater Nexton community. Just beyond the gates, there's so much to explore. Start at the newly-opened Nexton Square, with destination restaurants, shopping, and services right in the neighborhood. Plus, the growing business community offers opportunities for second careers or giving back by mentoring up-and-coming trailblazers.
See where the active happens

Interested in learning more? Your timing is perfect. Join us on July 27th to see the brand-new clubhouse for yourself. We're celebrating the grand opening with lunch, live music, and tours of six beautifully designed model homes. Then, sign up for the Explore Del Webb program, a unique four-day experience that allows you to live like a resident in a fully-furnished, private home conveniently equipped with a golf cart. It's the perfect way to explore the many reasons this active adult community is right for you.
Register for the Amenity Grand Opening event to learn all about it. See you on the 27th.