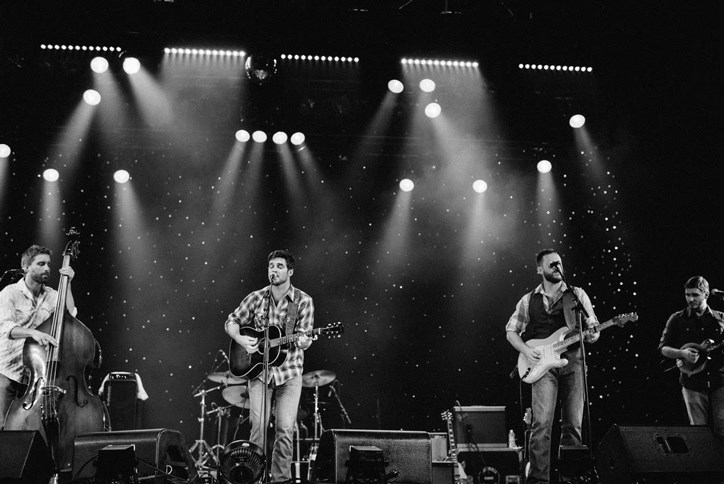 Up Next in Sounds on the Square: Sideshow Americans
There's no better way to spend a summer evening than listening to a great band and enjoying fantastic food. Don't you agree? We're excited to keep the good vibes going this Friday with our next concert in the Sounds on the Square series. Meet us at the newly renovated hub of Summerville, Hutchinson Square, to soak up some summer vibes and enjoy a concert - on us! 
We'll be rocking out with Lowcountry-natives Sideshow Americans. More on them, the food, and the great company below.
Music to your ears
If you haven't heard of Sideshow Americans, you're in for a treat! You'll be adding them to your Spotify playlist before the show is over. An Americana band hailing from John's Island, Sideshow Americans focuses on southeastern string band traditions and four part harmonies. The talent comes from bassist Whitt Algar, guitarists Ryan Bonner and Dan Wright, and multi-instrumentalist Cory Jerrett. 
Not familiar with Americana? Even if you don't recognize the term, you'll surely recognize the sounds. Formed by combining traditional American styles of music, it's really a melting pot of folk, country, blues, rock and roll, and even gospel. Chances are you dig at least one of those genres, which means you're for sure going to be toe-tapping to combination of them! The American Music Association describes it as a contemporary music heavy on acoustic with "a distinctive roots-oriented sound that lives in a world apart from the pure forms." 
Sideshow Americans' cite John Prine, Jayhawks, and Wilco as inspirational to their work. This Friday, you can expect to hear tunes from Sideshow Americans' debut EP Streetlights, as well as new work and familiar covers.
No partying on an empty stomach
Leave your own snacks at home, but do bring a full appetite! We recommend chowing down on some all-american burgers and fries from Burgers and Freys, LLC. Don't want to go American? No Problem! Instead enjoy a tasty quesadilla partnered with flavorful bomb sauce from Rolled Quesadillas. 
We didn't forget it's summer time in Summerville! And that's why Kona Ice of Summerville will be there to cool you off with yummy treats that the entire family can enjoy.


Remember to stop by the Bojangles food truck for a free, that's right - free - glass of ice tea. It's sure to hit the spot on a summer evening! 
Nexton appreciates you! 
We want to give a big shout out to our sponsors, the Summerville Shopkeepers, a collection of all downtown merchants, including: Accent on Wine, Cuppa Manna, East Winds, Eva's on Main, Everything Chic, Four Green Fields, Hanebrink Jewelers, Main Street Reads, Nailed it DIY Studios and People Places & Quilts, Fly and Maggie Rose! Nexton thanks you! 
As far as everyone else, get ready to rock 'n roll on down to Hutchinson Square July 5 for a day you're sure to remember. Be sure to use our hashtag #soundsonthesquare in all your concert memories! See you soon!